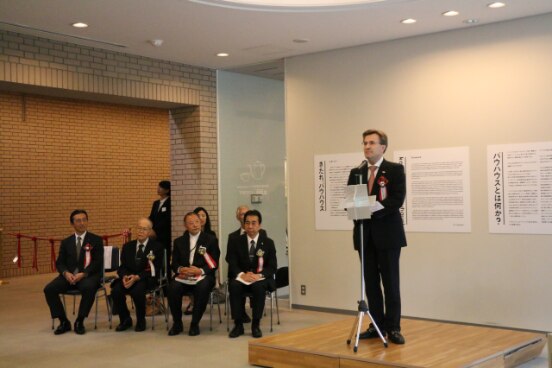 This year marks the 100th anniversary of the establishment of Bauhaus, the art school initiated in Weimar, Germany by an architect Walter Gropius.  Though Bauhaus existed only for 14 years until it was closed in 1933, we can still see its tremendous influences on art and design even in the present days, reflecting its experimental spirits, innovative education system and unique curriculums.  Some of well-known Swiss artists including Paul Klee, Max Bill and Johannes Itten had classes at Bauhaus and taught young students.
In this connection, Mr. Dieter Sommerhalder, Honorary Consul General of Switzerland, attended the opening ceremony of the "Come to Bauhaus!" Exhibition at Otani Memorial Art Museum, Nishinomiya City, on 11 October 2019 together with other distinguished guests, such as the German Consul General and Vice Mayor of Nishinomiya City, Hyogo Prefecture.  In his congratulatory message, Mr. Sommerhalder underlined that the main principles of Bauhaus, which are "functionality, simplicity and innovation", would be very much alive even now, and that they would be found in many popular products, such as the iconic Swiss official railway clock designed 75 years ago and used in every train station in Switzerland by today.
About 100 art and design lovers attended the opening ceremony and deepened their understanding about the Swiss connection with Bauhaus.  The attendants were kindly requested beforehand to put on a metal product or something metallic during the ceremony to revive one of the dress codes of the school parties at Bauhaus.
The "Come to Bauhaus!" Exhibition at Otani Memorial Art Museum, Nishinomiya City will continue until Sunday 1 December 2019.  The exhibition will travel to Takamatsu, Shizuoka and Tokyo next year.
More information:  Otani Memorial Art Museum, Nishinomiya City