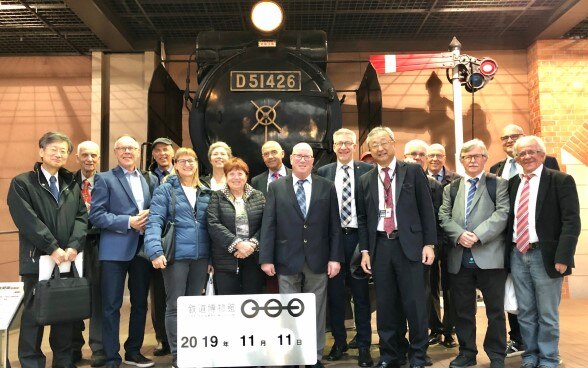 On the course of their own 10-day Grand Tour in Japan, the group of approximately 20 led by the museum's Director Mr. Martin Bütikofer and Mr. Oskar Stalder, former engineer at Swiss Federal Railways SBB made stops at railway and automobile museums, operation centers of major Japanese railway companies and rides on sister railways of Swiss operators such as the Brienzer Rothorn Bahn and the Rhätische Bahn.
The group made their first stop at the Embassy of Switzerland in Japan where they received a first lecture on the Japanese Railway System by Prof. Ryo Takagi of Kogakuin University. The professor had studied under Prof. Satoru Sone, professor emeritus of the University of Tokyo and counterpart of Mr. Stalder who was a visiting researcher at the Japanese university at one point.
Other stops included the Railway Museum of the East Japan Railway Co. (JR East), the Kyoto Railway Museum, and the Yamanashi Prefectural Maglev Exhibition Center featuring the innovative future Maglev project that is expected to shorten the travel time between Tokyo and Osaka from 2.5 hours to approximately an hour. In between these railway museum visits, the group also made a stop at the Toyota Automobile Museum in Aichi to get a perspective of Japan's overall transportation system.
Furthermore, special visits to the JR East and the West Japan Railway Co. (JR West) operations centers and headquarters were organized. The group also received a lecture on the Maglev technology at the University of Tokyo.
In addition to the Shinkansen bullet train rides, the experience of riding the winding route of the Oigawa Railway, sister railway of the Brienzer Rothorn Bahn along the Oigawa River was one of the highlights. The group had planned to also take the Hakone Tozan line, however the sister railway of the Rhätische Bahn unfortunately was out of operations after being struck by the typhoon and storms in October. Our hearts go out to our Japanese friends who have been affected.