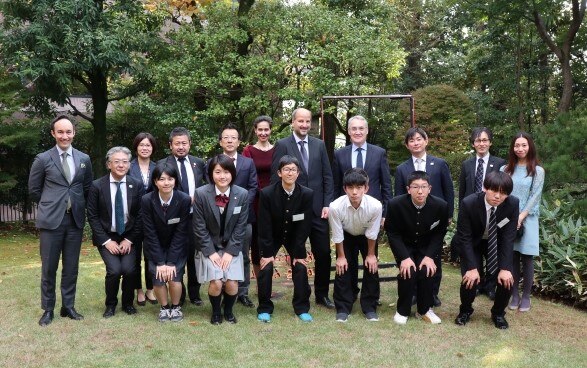 Ahead of the Lausanne 2020 Youth Olympic Games and the Tokyo 2020 Olympic and Paralympic Games, Mayor of Lausanne Grégoire Junod visited Tokyo together with an official delegation. On the occasion of this visit, he was welcomed by the Ambassador of Switzerland to Japan, Jean-François Paroz at his Residence for a presentation about Lausanne as the Olympic Capital and the host city of the upcoming Lausanne 2020 Youth Olympics.
The reception was attended by members of the "Comité pour la Promotion de la Francophonie au Japon" as well as the representatives of the Tokyo Organising Committee of the Olympic and Paralympic Games, the Tokyo Metropolitan Government and the Japanese Red Cross Society.
Young participants to an upcoming homestay program in Switzerland organized by NPO Support Our Kids (SOK) also joined the reception to show their enthusiasm to visit Lausanne during the Youth Olympic Games, warmly encouraged by Mayor Junod and Ambassador Paroz. SOK partners with the Embassy for the inclusiveness pillar of the campaign "Doors to Switzerland" on the road to Tokyo 2020.
Mayor Junod and his delegation also participated in the "Smart Cities & Sport" summit held in Tokyo.
Home of the headquarters of the International Olympic Committee (IOC) since the early 20th century, Lausanne was given the title of Olympic Capital by the IOC to mark its centenary in 1994, confirming the city's status as the epicenter of international sport. Today, some 57 international sports federations and organisations are based in Lausanne.