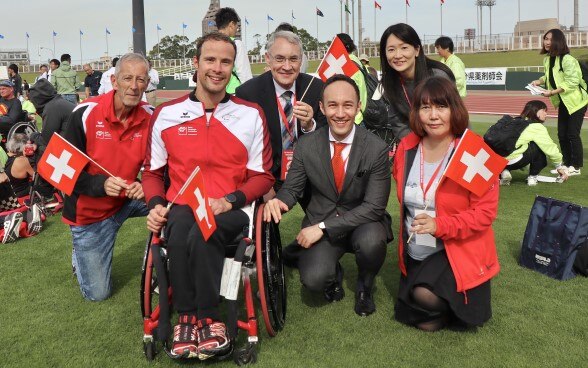 Congratulations to our Swiss champions! We are very pleased to celebrate the victory of Swiss athletes Manuela Schär and Marcel Hug at the 39th Oita International Wheelchair Marathon held on November 17th, one of the most important competitions of its kind. Oita City is an Inclusive Host Town of Switzerland ahead of Tokyo 2020. Ms. Manuela Schär broke her own world record and won her 4th victory in Oita, while Mr. Marcel Hug claimed his 8th gold medal, the second in a row. Japanese athletes Mr. Tomoki Suzuki and Ms. Tsubasa Kina came in 2nd!
On November 18th, Oita Prefectural Office hosted the signing ceremony of a Memorandum of Understanding on the 2020 pre-training camp for the Swiss Wheelchair Athletics Paralympics Team. Under this agreement, Swiss athletes will train during one week in Oita before joining the Tokyo 2020 Paralympic Games. The MoU was signed by the Swiss Wheelchair Athletics Paralympic Team, Oita City, Oita Prefecture and the Oita City Athletics Association, in presence of the Ambassador of Switzerland to Japan Jean-François Paroz.
In his various addresses during his visit, Ambassador Paroz commented, "Strong relationship between Oita and Switzerland exists thanks to the Oita International Wheelchair Marathon and the remarkable successes that great Swiss athletes have achieved with their victories in this competition during the last decades." For many years, Swiss athletes have been visiting the famous marathon in Oita. Heinz Frei set a world record at the marathon in Oita on 31 October 1999, which is still valid today. Furthermore, the City of Oita made Heinz Frei an honorary citizen for his merits.
The Ambassador also congratulated Oita City and Oita Prefecture officials and added that "it can be expected that the momentum towards Tokyo 2020 as well as international exchanges will be fostered for Oita City." He further commented that "Oita is the home region of a significant actor of the Japan-Switzerland relations. As President of the Japan-Switzerland Parliamentarians' Friendship League, Mr. Seishiro Eto, greatly contribute to the excellent relationship between our two countries."  
On Saturday, hundreds of Oita citizens enjoyed Swiss culture, food, wine and presentations as well as an exhibition on inclusive-hiking in Switzerland at a Swiss Fair organized by Oita City in collaboration with Switzerland Tourism and the Embassy of Switzerland in Japan. A dinner hosted by Mayor of Oita, Mr. Kiichiro Sato, marked the 15th station of the Grand Tour of Switzerland in Japan.
On Monday, Swiss Embassy and Swiss athletes participated in a school program at Maizuru Elementary School for the presentation of Switzerland followed by the wheelchair experience.