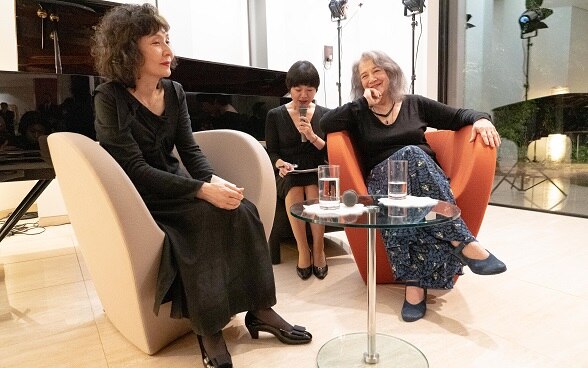 Pianist Martha Argerich, the holder of a Swiss passport, is one of the world's most respected classical soloist. Among many other awards, she has received the Praemium Imperiale in Japan in 2005.
Ms. Argerich being General Director of the Music Festival Argerich's Meeting Point in Beppu, and Oita City being one of Switzerland's 2020 Host Towns, the Embassy of Switzerland in Japan offered to host the 101st Pinocchio Concert at the Residence of Ambassador Jean-François Paroz on June 3rd. The concert was performed by the renowned pianist and Ms. Kyoko Ito, General Producer of the festival and also a longtime friend of Argerich.
Organized by the Argerich Arts Foundation since 1998, the Pinocchio Concerts aim to encourage adults to foster a good environment for children to develop their minds through classical music. In front of more than 80 guests including The Hon. Seishiro Eto, Chairman of the Japan-Switzerland Parliamentary Friendship League, The Hon. Kiichiro Sato, Mayor of Oita city and Her Excellency Mrs. Tatiana Iosiper, Ambassador of Romania to Japan, Ms. Argerich and Ms. Ito performed the "Andante & 5 Variations for Piano 4 hands in G major K.501" by W.A. Mozart and "Ma Mère l'Oye" by M. Ravel.
Following the performance, Ms. Argerich and Ms. Ito emphasized the importance of the project and answered the questions of journalists.