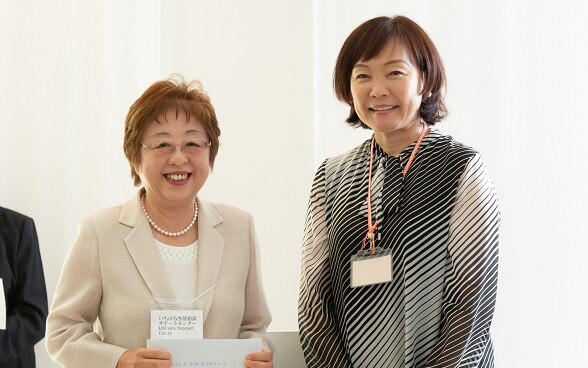 The spouse of the Prime Minister of Japan, Mrs. Akie Abe, was the special guest of the International Ladies Benevolent Society (ILBS) for its Annual General Meeting 2019, held at the Swiss residence in Tokyo on June 4th. During the Annual General Meeting, ILBS donated financial contributions to sixteen welfare institutions in Japan and five institutions located in India, Singapore, Tanzania and Thailand.
The ILBS organizes charity events, including the popular Cherry Blossom Charity Ball to raise funds in favor of welfare institutions in Japan and abroad. A selection committee reviews the applications received and the grants are solemnly presented to the representatives of the beneficiaries at the Annual General Meeting, in presence of a guest of honor.
Dr. Yulia Gusynina Paroz, wife of the Swiss Ambassador to Japan, praised the activities of ILBS as an example of the priority that both Japan and Switzerland give to the issues of social inclusion and rehabilitation. The events and communication campaign of the Swiss Embassy in Japan called "Doors to Switzerland – Japan 2020" on the road to the Tokyo 2020 Olympic and Paralympic Games has a component dedicated to the partnerships in favor of humanitarian action and long-term rehabilitation.