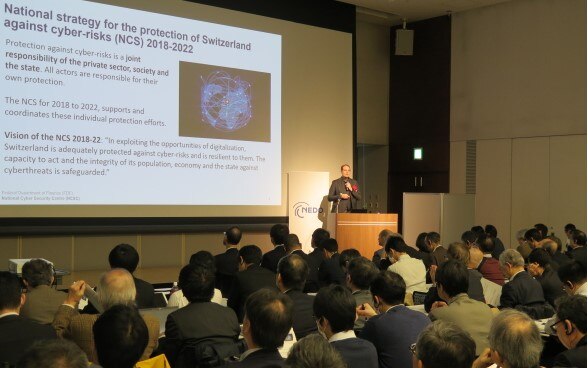 In the context of the informal dialogue on cybersecurity between Switzerland and Japan, the Federal Cyber Security Delegate of Switzerland was invited by Japanese authorities to speak about "The National Strategy for the Protection of Switzerland against cyber risks and its importance for the Economy". Mr. Florian Schütz spoke during the opening of the 2020 Symposium of the Cross-ministerial Strategic Innovation Promotion Program (SIP) on January 24, 2020.
His speech focused on the strategic objectives of Switzerland in the framework of the national strategy for the protection against cyber-risks (NCS) 2018-2022. Mr. Schütz also presented the organization of the Confederation in the area of cyber risks and introduced the main actors involved in the protection of critical infrastructure. The remarks were followed by a visit of the exhibition, displaying some of the results of the 5-year SIP program in the field of "Cybersecurity for Critical Infrastructure".
Prior to his participation in the symposium, the Swiss delegate also had the opportunity to meet with various Japanese organizations involved in cybersecurity. His visit to Japan followed a visit of the President of the Institute of Information Security (IISEC) and Program Director for SIP "Cybersecurity for Critical Infrastructures" at the Cabinet Office within the Government of Japan, Prof. Atsuhiro Goto, to Switzerland in 2019. The Informal Cybersecurity Dialogue between Switzerland and Japan started in June 2019, when the President of the Swiss Confederation, Ueli Maurer, met with the Prime Minister of Japan, Shinzo Abe. Both Switzerland and Japan face similar challenges in addressing the risks associated to cyber-attacks and value enhanced international collaboration in this field.