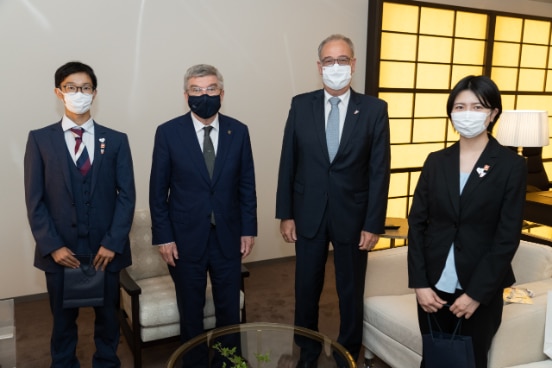 On Saturday July 24, 2021, Yuzuha Yoshida, 18 years old, and Shuto Kumagai, 19, two Japanese students who participated to a homestay program in Switzerland organized by the Non-Profit Organization Support Our Kids and the Embassy of Switzerland in Japan, were invited to interact with Swiss President Guy Parmelin and IOC President Thomas Bach at the Olympic Club in Tokyo.
In the name of all the Support our Kids participants, Shuto and Yuzuha could express their gratitude to President Parmelin and President Bach for their support and generosity. The four of them discussed the powerful emotions and technical prowess of the Tokyo 2020 Opening Ceremony. Yuzuha and Shuto shared their plans and dreams for their future life and career, mentioning their strong wish to stay connected to Switzerland and the IOC.

Both natives of regions in the Tohoku that were affected by the 2011 triple catastrophe, Yuzuha and Shuto experienced the consequences of the disaster personally, whether home destruction or lost friends. Together with other teenagers from Tohoku, they traveled to Switzerland in January 2020 for a homestay program.

During their Swiss trip, the group of Japanese students visited Lausanne, the 2020 Youth Olympic Games and the IOC headquarters where they first met with President Thomas Bach, in addition to other international organizations in Geneva and several scenic spots. The homestay program organized by NPO Support Our Kids and the Embassy of Switzerland in Japan was designed to help young representatives from the Tohoku develop their global outlooks and become leaders in the long-term rehabilitation of their region. Support Our Kids and the Embassy of Switzerland in Japan organized two homestay programs in 2019 and 2020, as part of the Embassy's public diplomacy campaign "Doors to Switzerland" on the road to Tokyo 2020.