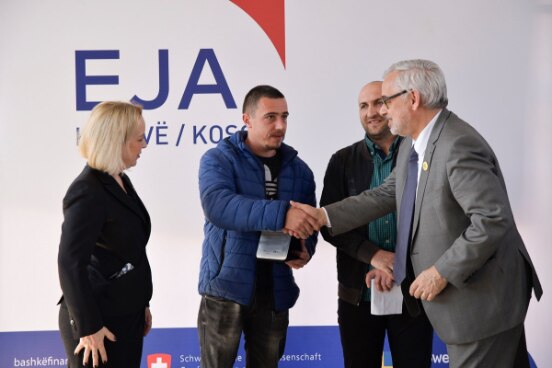 Dear Ladies and Gentleman,
I am very happy to be here.

Kosovo portrays a positive picture in terms of the enabling environment for civil society. A modern legislation related to civic engagement in public affairs is in place and is systematically further improving. In contrast to some global and regional trends, there is no clear evidence for a shrinking space for civil society.

However, the development of a democratic culture is a long-term and complex process. Strengthening the role of civil society and citizens for an active engagement in consistent and participatory shaping of public affairs is a central element for the democratization process in any country.

Switzerland is supporting Kosovo in many reform areas like: Local Governance, Water, Employment, Health and Migration. In order to achieve success in any of these areas, it is indispensable to uphold a systematic dialogue between the citizens and government actors.

A more active and engaged civic society that exercises its democratic rights and powers has the potential to push the government to act in a democratic, transparent and inclusive manner. Informed and organized citizens can voice their interests, hold governments accountable, influence policy agendas and decision making for their good. Therefore, it is important to support citizens and civil society organisations to actively use spaces for participation and take ownership and co-responsibility for public matters.

For the civil society organisations it is vital to invest in strengthening the connectivity to their members and the broader spectrum of citizens for an increased legitimacy as well as to engage in building alliances and joint action for an increased effectiveness and better results.

There are many excellent cases in Kosovo of civil society initiatives, media outlets, watchdog organizations, think tanks, advocacy associations and networks as well as individual activists that engage with incredible enthusiasm. They play a crucial role in the mobilisation of citizens and also serve as an inspiration.

They deserve our admiration and recognition for their engagement.

Thank you very much!