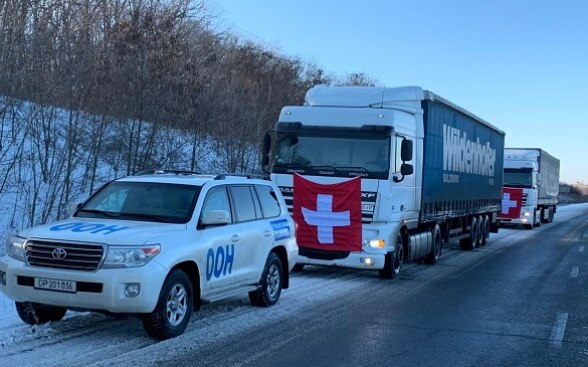 As with previous aid convoys to eastern Ukraine, this latest humanitarian action was carried out by a team of experts from the Swiss Humanitarian Aid Unit (SHA), on this occasion with logistical support from the UN's Office for the Coordination of Humanitarian Affairs (OCHA). There is a great need for clean drinking water in the region, where the situation is tense because there is a lack of disinfectants to treat the water.
This latest consignment contains two large-scale installations that can produce a chlorine substitute known as hypochlorite. The decentralised systems have been sent to the waterworks in Donetsk and Makiivka, both located in the part of Ukraine outside government control, which service around 900,000 people. Chlorine has also been supplied to various branches of the waterworks in the region. The current mission also includes extensive monitoring of the hypochlorite production systems supplied to date on both sides of the contact line.
Switzerland is the only state actor working in a humanitarian capacity in eastern Ukraine on both sides of the contact line. By delivering supplies that improve the local medical infrastructure and help produce clean drinking water, Switzerland's aid convoys are making a major contribution to mitigating the negative impact on public health in the region.
---
Address for enquiries:
FDFA Information
Federal Palace West Wing
CH-3003 Bern, Switzerland
Tel.: +41 58 462 31 53
E-mail: info@eda.admin.ch
Twitter: @SwissMFA
---
Publisher: