Embassy of Switzerland in Kyrgyzstan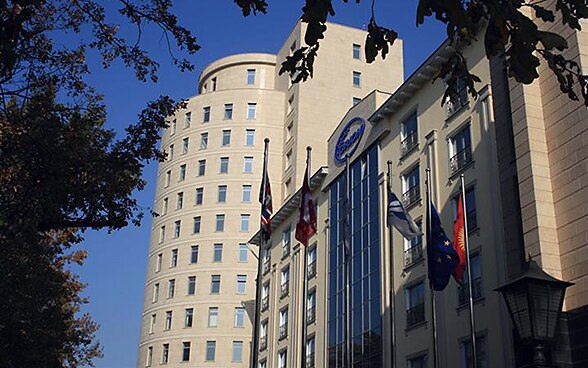 The Swiss Embassy in the Kyrgyz Republic represents the Swiss Government and covers all matters concerning diplomatic relations between the two countries and supervises Swiss projects implemented in Kyrgyzstan funded by two Swiss Federal Agencies – the Swiss Agency for Development and Cooperation (SDC) and the State Secretariat for Economic Affairs (SECO).
Switzerland supports Kyrgyzstan in its economic, social and political transitions. The objective of its Cooperation Programme is to promote peace and social cohesion as well as responsive and inclusive institutions and a sustainable development to improve the well-being of the population.
COVID-19
The Swiss Federal Council calls on Swiss tourists and business travelers to return to Switzerland and organize their journey independently. Since flights might be soon rescheduled or discontinued, it is essential that you contact your airline immediately to ensure your return to Switzerland.
The government of the Kyrgyz Republic has decided to temporary restrict the entrance in the country to all foreigners starting March 19th 2020 and until further notice.
For information's regarding the corona virus situation please refer to the recommendations by the local authorities as well as the official websites of the World Health Organization WHO, the Swiss Federal Office of public Health FOPH and the FDFA travel advices.
Swiss Federal Office of Public Health
Hepline FDFA
+ 41 80 024 73 65
+ 41 58 465 33 33
Infoline Corona virus: + 41 58 463 00 00
Important update on visa
Following the recent developments concerning the corona virus and instructions of the Swiss State Secretariat for Migration SEM, the Embassy of Switzerland in Bishkek has suspended the acceptance of visas for Switzerland, the Czech Republic , Slovakia, Slovenia, Finland, Poland, Estonia, France and Latvia with immediate effect and until further notice.
Please visit the Website of the Embassy of Switzerland in Bishkek for updates regarding visa handlings.