Embassy of Switzerland in the Kyrgyz Republic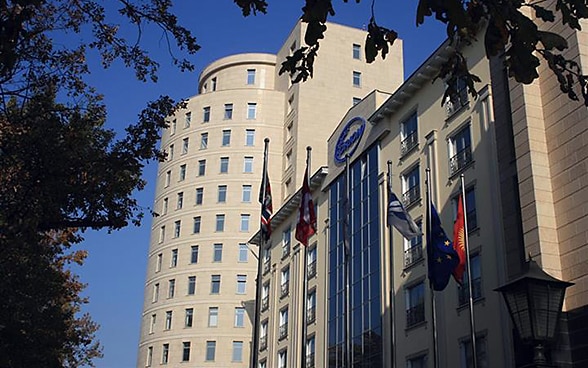 The Swiss Embassy in the Kyrgyz Republic represents the Swiss Government and covers all matters concerning diplomatic relations between the two countries and supervises Swiss projects implemented in Kyrgyzstan funded by two Swiss Federal Agencies – the Swiss Agency for Development and Cooperation (SDC) and the State Secretariat for Economic Affairs (SECO).
Switzerland supports Kyrgyzstan in its economic, social and political transitions. The objective of its Cooperation Programme is to promote peace and social cohesion as well as responsive and inclusive institutions and a sustainable development to improve the well-being of the population.
In 2022 Switzerland and Kyrgyzstan will mark 30 years anniversary since the establishment of diplomatic relations. Read more here.
COVID-19 - Information on the situation
There are currently no COVID entry restrictions in place to travel to Switzerland.
Travel Admin App
If you are traveling in the region as a tourist or for business purposes please register on the Swiss Travel Admin App in order to be able to locate you in case of necessity. Make also sure to delete your registration once returned to Switzerland.
Situation in the country
Swiss citizens are allowed to enter Kyrgyzstan under usual immigration conditions. Please check the latest entry requirements with the competent Kyrgyz authorities (Embassy of the Kyrgyz Republic to Switzerland, Permanent Mission of the Kyrgyz Republic to the United Nations and other international organizations in Geneva) before travel, as they can change rapidly.

Visa

Working hours of the visa section for telephone calls:
Monday: 15:30 - 16:30
Tuesday-Friday: 15:00 - 16:00
For information on visa requirements and procedures, please visit the visa section of this website.
Please note that the general number of the Swiss Embassy cannot give visa information.
Useful links
Swiss Federal Office of Public Health
Helpline FDFA

+ 41 80 024 73 65
+ 41 58 465 33 33
COVID-19: Swiss support to Kyrgyzstan
The Swiss Cooperation contributes to prevent and respond to the COVID-19 crisis in Kyrgyzstan. It provides assistance to the Kyrgyz Government and operates in close coordination with other development partners and diplomatic representations.
For more informations please click here