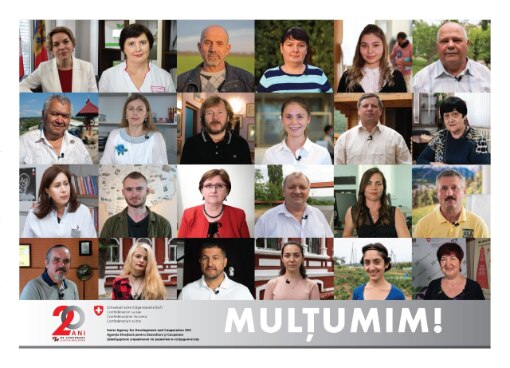 Support provided by Switzerland for better access to water and sanitation in villages, inclusion of people with disabilities or former detainees, Roma community mediators, economic empowerment of women, development of youth-friendly health services and community mental health services, civic education and various activities of youth volunteers, cultural diversity, promotion of dual vocational education and training, eco farming, human rights film festivals –all these are portrayed by the stories of the campaign.
Infographics were used to showcase the results achieved in former and current domains of intervention – Water and Sanitation, Health, Local Governance, Economic Development and Employment, as well as in the Migration and Development Program and in the Small Actions and Culture Program, and the support for Moldova's response to the Covid-19 crisis.
"An investment worthy of respect"
Hundreds of people reacted so far to the campaign, by commenting and sharing the stories published on Facebook. Stas Caciura had to say the following on the story about reintegration of those from vulnerable groups: "This is an investment in people and their future worthy of respect!" Mayor of Selemet village Tatiana Badan expressed, on behalf of the inhabitants of her village, gratitude for the support provided by Switzerland for the development of local communities in Moldova.
Results achieved by the Swiss Cooperation would have not been possible without the dedication and tremendous work of local partners. In order to gain people's trust and build close relations between communities and project teams, the Swiss Cooperation encouraged women and men, youth, people with disabilities, representatives of Roma community, and state officials to be at the core of all of the activities and be the ones talking about benefits of the development cooperation between Switzerland and Moldova.
In order to ensure durability of the Swiss interventions, one needs strong local organizations, leaders and local public administrations, able to carry on with the development of their communities by engaging with all people, especially the excluded ones. This is precisely what we aim to achieve by means of the #20 #cooperation campaign – to showcase devotion, positive experience, local expertise and willingness to change things for better in Moldova. Encouraging those who stayed aside to make a step towards more civic engagement is the ultimate way to build a strong and healthy democracy in Moldova.