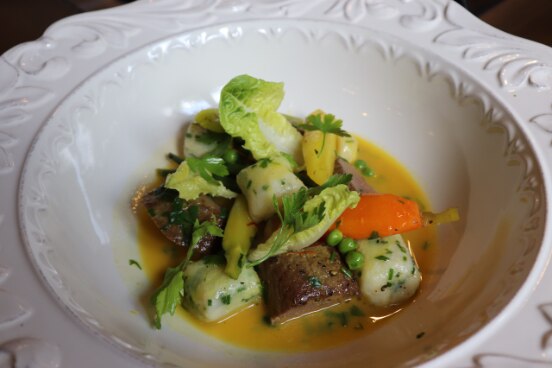 Perk up your mornings with a delicious cup of coffee! Win your very own NESPRESSO machine. Experience how #MasarapSwitzerland can be by making your own Emmental dish!
Check out this recipe from Swiss chef Thomas Wenger. Post a selfie photo or video of your Emmental effort and you could get a chance to take home your very own NESPRESSO machine!
Make sure to tag the Embassy on your Facebook or Instagram post and use the #MasarapSwitzerland #MabuhaySwitzerland hashtag. Deadline for entries will be on 03 August 2020.
Note: You may use beef, pork, or chicken as an alternative to lamb.
Poached lamb loin "Emmental" with spring vegetables, saffron broth, and chive gnocchis
- Recipe is good for 4 persons
Ingredients
4 lamb loins, fully trimmed, approx. 120 g each 

1 large carrot, peeled and quartered lengthwise

4 pcs young leek, cleaned, using the white thick part of the leek approx. 6cm long

80 g French beans, cleaned

4 large garlic cloves, peeled 

80 g celery stalk, cut in batonettes approx. 6 cm long, reserving some inner yellow leaves 

80 g zucchini, quartered, cut 6 cm long, seed flesh removed

80 g white radish, peeled, quartered length wise

20 g green peas frozen

8 pcs small, yellow romaine leaves

40 ml Olive oil for frying

100 g butter for roasting of gnocchi and for the broth, cut in cubes, chilled

Sea salt

Pepper from the mill



For the broth
100 ml beef bouillon

¼ g saffron strands

5 g fresh thyme, stem and leave separated

5 g Italian parsley

1 pc bay leaf
For the potato gnocchi
2 pcs medium potatoes

1 soup spoon all-purpose flour

1 egg yolk

20 g spring onions, very finely chopped 
Recipe
Season the lamb loins with salt and pepper from the mill.

In a heavy skillet, heat olive oil to very hot and sear the lamb loins 30 seconds on each side until well browned. Remove from skillet and set aside

In a high sided pan, bring the broth to a simmer. Add the saffron, garlic cloves. Tie some thyme and parsley stems with a bay leaf in a bundle and add to the broth.

Slowly simmer all vegetables in the saffron broth, remove when cooked but to the bite (al dente), remove the vegetables and set aside.

Into the hot simmering broth, add lamb loin and gently poach at 80C for approximately 6 minutes or until medium. Remove and set aside warm for resting.

Reduce the broth to half its original volume, swing in the butter while under motion with a whisk. Adjust seasoning with salt and pepper, add thyme and chopped Italian parsley.
For the Gnocchi
Score the potatoes with a knife tip all around, then bake in 160C pre-heated oven until completely cooked, approximately 30 minutes. Remove potatoes from oven and set aside to cool.

Scoop out the flesh of the baked potatoes and with a rubber spatula then force it through a fine metal sieve.

Mix the mashed potatoes with the flour and season well. Add the egg yolk and the finely chopped chive.

Knead the mixture in a tough and on a well flour-dusted surface.

R

oll the potatoes into a long strand roll approximately 2 cm in diameter.

Cut the gnocchi with a floured dusted knife in 3 cm long rolls.

In pot, bring saltwater to a rolling boil, add the gnocchi and gently poach then for approximately 3 minutes. The gnocchi will float when they are cooked. 

Skim off the water and cool gnocchi in cold water, set aside and dry well on paper towel.

In a heavy skillet, add olive oil and bring to medium heat, add the gnocchi and 20 g butter and sauté the gnocchi until lightly brown. Season with salt and pepper and set aside warm.
 Final touches
Assemble the plate by carving the lamb loin diagonally into 4 equal slices. Place on the plate, add the vegetables to the sauce to heat through and decoratively place them to the lamb. Add the gnocchi and the crisp romaine and celery leaves.

Lastly pour the sauce over meat and vegetables and serve at once.

en Guete!