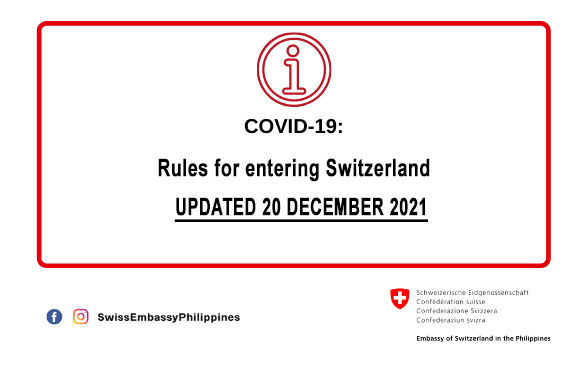 For detailed Information on Switzerland's border sanitary measures, please refer to the following leaflet (DOCX, 1 Page, 554.0 kB, multilingual: German, French, English).

Entry form
Everyone entering Switzerland must present a completed entry form. It is important to fill out the electronic entry form on a computer or smartphone at the earliest 48 hours before the travel in order to receive a QR code by email. This code needs to be kept at hand for inspection upon arrival in Switzerland. The controlling authority can impose a fine if the entry form is not completed or if the information provided is false.
Mandatory testing
A negative PCR test must be presented upon entry. Persons arriving in Switzerland must prove that they have had a molecular biological analysis test for SARS-CoV-2 (PCR Test Covid-19) done within the last 72 hours prior to entering Switzerland (time of specimen collection) and that the result of the test was negative. We therefore ask you to take into account the travel and transfer times as well as the time difference.
Children under the age of 16 are not subject to the testing requirement and do not need proof of a negative test result.

Note: For people entering Switzerland from a country with a variant of concern, the test requirement on boarding already applies to those aged 6 and over.

Unvaccinated travelers
After four to seven days in Switzerland, another test, carried out in Switzerland, is required. This test is chargeable. Those entering the country pay for the tests themselves.
For people entering the country and leaving before day 7 (and staying for 6 nights), another PCR test is not mandatory but recommended.

Test results and the number of the entry form or a copy of the contact card must be notified to the canton within 2 days. Contacts of the cantonal authorities.

Graphic on the rules of entry (PDF, 1 Page, 121.5 kB, English)

The Travelcheck allows you to check whether and under what conditions you can enter Switzerland.

The website of the Federal Office of Public Health (FOPH) contains many other details that will certainly be helpful to you, especially the list of risk countries and areas.

The Embassy of Switzerland in the Philippines assumes no liability for the accuracy and completeness of the information.