Embassy of Switzerland in Saudi Arabia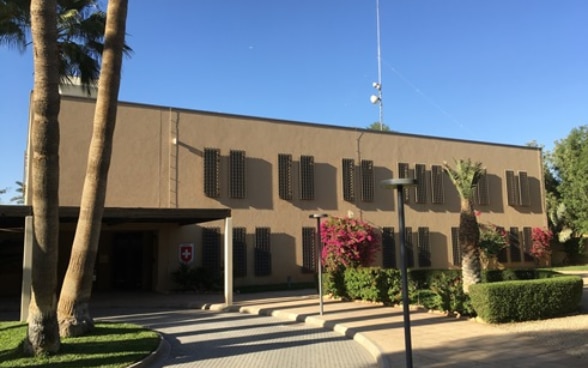 As the official representation of Switzerland, the Embassy covers all matters concerning diplomatic relations between the two countries. It represents Swiss interests in the areas of political, economic, financial and legal affairs, as well as science, education and culture.
COVID-19 (Coronavirus) – information
From May 31, 2020, the Embassy of Switzerland in Saudi Arabia is open to Swiss Citizens for urgent matters, during normal opening hours (Sun-Thu 8:00am-11:30am) or by phone during working hours (Sun-Wed 7:30-16:30, Thu 7:30-14:00). In case of need outside the opening hours, Swiss citizens can contact the FDFA Helpline: +41 800 247 365 or +41 58 465 33 33, email helpline@eda.admin.ch
Update: Swiss COVID Certificate
As of 20 September, anyone who has been vaccinated abroad with a vaccine approved by the European Medicines Agency EMA will be able to obtain a Swiss COVID certificate via the cantonal authorities in Switzerland.
In a transitional phase from 20 September until 10 October 2021, all foreign vaccination certificates for EMA-approved vaccines will be valid for access to events or facilities requiring a COVID certificate (see press release of the Federal Council). After this date the Swiss COVID certificate will be required. For further questions concerning the Swiss COVID certificate and its application please consult the relevant website of the Federal Office of Public Health and its COVID certificate FAQ.
Entry requirements for Switzerland & Issuance of visas resumption

Effective July 19, 2021, Saudi Arabia is not considered a high-risk country anymore and therefore, the regular entry requirements will apply again.
This means that the Swiss authorities are not asking for a SARS-CoV-2 vaccine. Persons travelling by plane to Switzerland may be required to produce a confirmation of a negative PCR test result, please check directly with your airline.
The visa activity will resume gradually and in order to maintain a regular flow, we urge you to apply for the visa within the coming weeks, only if you were planning to visit Switzerland during the summer.
This new post-crisis situation will inevitably create a waiting time to get an appointment, we apologize for it.
1. You are already holding a Schengen Visa

A Schengen visa obtained by any of the Schengen Area member countries allows free movement to its holder within Switzerland up to its validity and period limitations.
The visa does not automatically entitle you to enter the Schengen area. At border (or during other controls) you may have to provide additional documentation, for example information on that you have sufficient means to cover the stay and the return trip. It is therefore recommended that you carry with you copies of the documents, presented initially when applying for the visa (e.g. letters of invitation, travel confirmations, other documents stating the purpose of your stay).
2. You do not have a valid Schengen Visa

Your main destination is Switzerland:
The Embassy of Switzerland in Saudi-Arabia have outsourced the application process for short-term visas (so called Schengen visas) to the external service provider VFS Global.
Our external service provider will support you during the application process. VFS Global is responsible for receiving your visa application, checking the completeness and acceptability of your application form and application documents, collecting biometric data, receiving the visa fee and other fees (service fee and optional fees) and returning your passport. The decision whether or not to issue a visa is taken by the Swiss Embassy only, VFS Global is not involved in the decision.
The earliest you can file a visa application: 6 months before your intended trip.
The latest you can file a visa application: at most 15 days before your intended trip.
Important: If your trip to Switzerland includes transit through another foreign country, travelers are responsible for verifying the travel restrictions in place of that country.

To see what rules apply to your own particular situation when entering Switzerland, consult the online Travelcheck.
We wish you a pleasant stay in Switzerland!
For information on the Coronavirus and the current situation, the following links may be useful:

Ministry of Health of Saudi Arabia
Federal Office of Public Health