Embassy of Switzerland in Saudi Arabia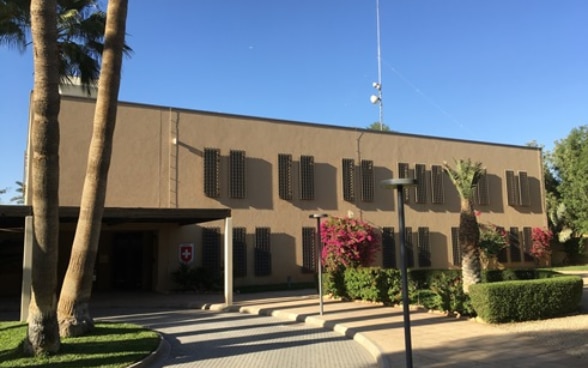 As the official representation of Switzerland, the Embassy covers all matters concerning diplomatic relations between the two countries. It represents Swiss interests in the areas of political, economic, financial and legal affairs, as well as science, education and culture.
The Embassy of Switzerland in Saudi Arabia is open to Swiss Citizens for urgent matters, during normal opening hours (Sun-Thu 08:00-11:30) or by phone during working hours (Sun-Wed 07:30-16:30, Thu 07:30-14:00). In case of need outside the opening hours, Swiss citizens can contact the FDFA Helpline:
+41 800 247 365 or +41 58 465 33 33, helpline@eda.admin.ch
COVID: where and how to get a COVID certificate
Do you not have a COVID certificate that is recognized in Switzerland?
You can request a COVID certificate in the canton where you are staying if you were vaccinated abroad.
Find out more on the COVID certificate page:
COVID certificate for people vaccinated abroad
Graphic on the rules entry (PDF, 358.9 kB, English)
As the festive season is approaching fast and many of you wish to travel to Switzerland, I would like to draw your attention to the new entry rules to Switzerland:
All persons entering Switzerland, regardless of their vaccination status or nationality, must have a negative COVID-Test, taken max. 72 hours prior to entering Switzerland.

All travelers must also complete the passenger locater form prior to travel: https://swissplf.admin.ch/formular
After arriving in Switzerland, between day 4 – 7 of the stay, all travelers must take another COVID-Test.

All necessary information can be found on the webpage of the Federal Ministry of Health.

1. You are already holding a Schengen Visa

A Schengen visa obtained by any of the Schengen Area member countries allows free movement to its holder within Switzerland up to its validity and period limitations.
The visa does not automatically entitle you to enter the Schengen area. At border (or during other controls) you may have to provide additional documentation, for example information on that you have sufficient means to cover the stay and the return trip. It is therefore recommended that you carry with you copies of the documents, presented initially when applying for the visa (e.g. letters of invitation, travel confirmations, other documents stating the purpose of your stay).
2. You do not have a valid Schengen Visa

Your main destination is Switzerland:
The Embassy of Switzerland in Saudi-Arabia have outsourced the application process for short-term visas (so called Schengen visas) to the external service provider VFS Global.
Our external service provider will support you during the application process. VFS Global is responsible for receiving your visa application, checking the completeness and acceptability of your application form and application documents, collecting biometric data, receiving the visa fee and other fees (service fee and optional fees) and returning your passport. The decision whether or not to issue a visa is taken by the Swiss Embassy only, VFS Global is not involved in the decision.
The earliest you can file a visa application: 6 months before your intended trip.
The latest you can file a visa application: at most 15 days before your intended trip.
Important: If your trip to Switzerland includes transit through another foreign country, travelers are responsible for verifying the travel restrictions in place of that country.

To see what rules apply to your own particular situation when entering Switzerland, consult the online Travelcheck.
We wish you a pleasant stay in Switzerland!
For information on the Coronavirus and the current situation, the following links may be useful:

Ministry of Health of Saudi Arabia
Federal Office of Public Health