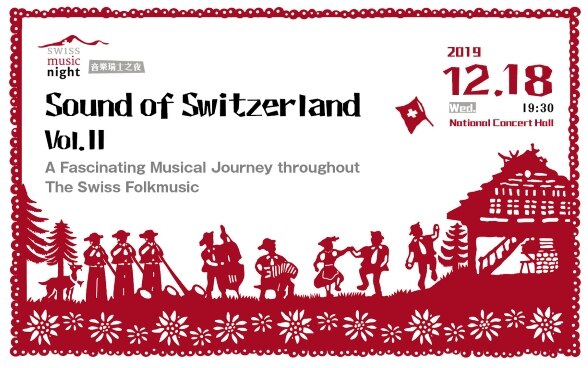 The 6th edition of the Swiss Music Night takes the audience on a fascinating musical journey throughout varied styles of Swiss Folk music and its astonishing influence in Japan. The Appenzeller Echo, one of the most outstanding Swiss folk music groups and one of the most important representatives of the Appenzell style, along with Swiss musician, cello player and composer Fabian Müller, meet the celebrated Japanese Yodel-singer Keiko Ito and the Amsle-Quantett, a group of five formidable Japanese professional musicians who have dedicated themselves for the love of Swiss folk music.
The ten musicians will present Swiss folk music through a variety of instruments and styles, as well as its musical developments in Japan.
The concert will take place at the National Concert Hall on Wednesday, 18th December 2019 starting at 19.30.
More information and tickets are available on the links (in Chinese) below.

National Theater and Concert Hall ticketing system