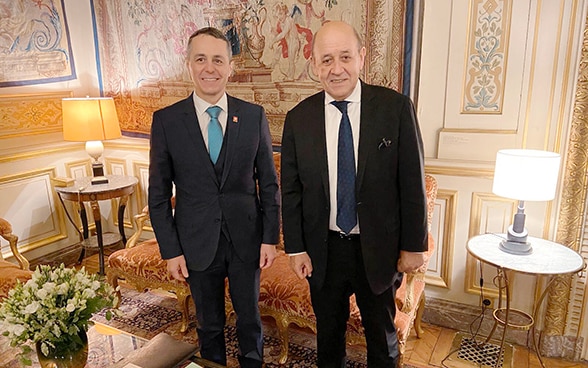 Mr Cassis thanked Mr Le Drian for France's assistance in the repatriation of Swiss citizens from Hubei province in China, stressing that cooperation between states is essential in order to contain the spread of the virus. Switzerland's chief diplomat later visited the Crisis and Support Centre at the Ministry for Europe and Foreign Affairs and also met with the head of the French government's Centre for Analysis, Planning and Strategy.
The two foreign ministers underscored the importance of the very close relations enjoyed by Switzerland and France. Other topics discussed included bilateral cooperation in police matters and on defence and security, and the development of EuroAirport Basel-Mulhouse-Freiburg and other cross-border issues.  
Furthermore, Mr Cassis updated his French counterpart on Switzerland's European policy. The Federal Council's intention to consolidate and further develop the bilateral approach by concluding an institutional agreement hinges on finding solutions with broad domestic support in the following three pending areas: wage protection, state subsidies and the Citizens' Rights Directive.
The two ministers discussed the situation in the Middle East, including the humanitarian consequences of the escalation of hostilities in Syria and the heavy migration flows along the Turkish-Greek border. The two delegations also discussed the situation in Libya, the conflict in eastern Ukraine and the situation in the Sahel region, where Switzerland has been involved for over 50 years in a major cooperation programme aimed at improving stability, development and security. 
Switzerland and France enjoy extremely close economic, human and cultural relations. France is Switzerland's fourth-largest trading partner, with a trade volume of CHF 38 billion in 2019 (including gold). More than 40% of trade with France is focused in the border regions. Switzerland is the fourth-largest source of foreign direct investment in France.
---
Further information:
Bilateral relations Switzerland–France

---
Address for enquiries:
FDFA Communication
Federal Palace West Wing
CH-3003 Bern, Switzerland
Tel.: +41 58 462 31 53
E-mail: kommunikation@eda.admin.ch
Twitter: @SwissMFA
---
Publisher: