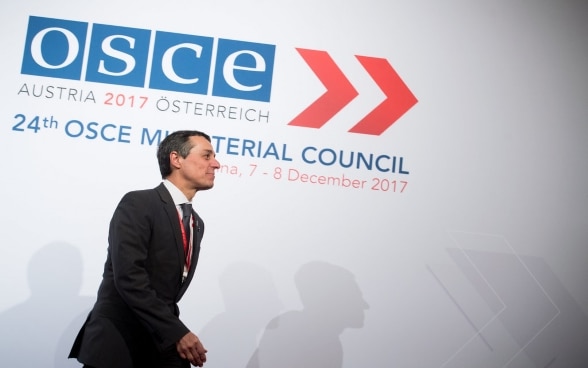 The Federal Council's account of Swiss foreign policy in 2017 presents a mixed picture. Relations with the EU continue to be fragile and in need of clarification, and this will remain a central element of Swiss foreign policy. The outcome was positive in the three other strategic priorities – global partners, peace and security, and sustainable development and prosperity.
2017 was marked by sustained shifts in power worldwide. The emergence of a multipolar world is a reflection of, in particular, the new US administration and China's growing ambitions to become a world power. The international situation still faces multiple crises, although some stabilisation and positive developments have been achieved. The global economy has recovered further, and the EU is looking more robust than a year ago.
Regional stability in Europe is one of Switzerland's core interests. This year's report contained a special chapter devoted to Swiss foreign policy's contribution to European security. This outlines Switzerland's efforts and engagement to overcome the European security crisis between Russia and the West and to promote security cooperation in the OSCE region. Taking the Western Balkans as an example, the report shows how Switzerland applies its comprehensive understanding of security to bring peace and development, also at the subregional level.
Efforts to normalise relations with the EU were again fragmented in the year under review. The Federal Council remains committed to its strategic goal of securing the future of the bilateral approach. It is therefore seeking a solution which ensures access to the single market and legal certainty and which is sustainable in terms of both domestic and foreign policy. Clarifying the institutional arrangements will require frank discussions on the costs and benefits of such an agreement, and must also include aspects regarding the economy, foreign policy and state institutions.
The more global outlook of Switzerland's foreign policy is becoming an increasingly important complement to its European policy. Asia has emerged as a focal point in practice, and relations with China and India were consolidated in 2017 with the state and presidential visits.
Furthermore, prevention has taken on a more prominent role on the international peace and development agendas. This trend reflects a traditional priority of Swiss foreign policy. Demand remains high for Switzerland's involvement in peace and security initiatives. Examples of this are the new protecting power mandates with Iran and Saudi Arabia, Switzerland's key role in various peace processes such as in Mozambique and Colombia, or the Syrian and Cyprus peace talks held in Switzerland. The appointment of a Swiss national as OSCE Secretary General once again illustrated our country's potential and credibility as a bridge-builder in an increasingly polarised world. Such polarisation also increases the importance of foreign security policy and the need to enhance our engagement in the cyber domain.
Lastly, the focus in development cooperation is on implementing the Dispatch on Switzerland's International Cooperation 2017–20. Reducing and preventing the causes of forced displacement and migration remains the priority.
Work is continuing on implementation of the Foreign Policy Strategy 2016–19. The objectives for 2018 include strengthening Switzerland's relations with the EU, a broad commitment to increased security, and ensuring solid support for foreign policy activities in domestic policy.
---
2017 Foreign Policy Report (DE) (This text is provisional. Only the version published in the Federal Gazette is binding)(pdf, 653kb)

---
Address for enquiries:
FDFA Information
Tel. +41 58 462 31 53
info@eda.admin.ch
---
Publisher: