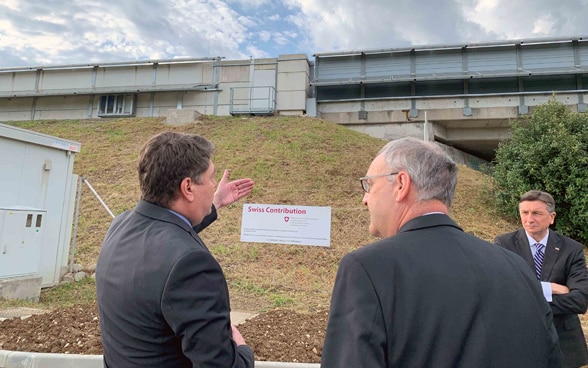 Slovenia received CHF 22 million as part of Switzerland's contribution to the enlarged EU and used about half of this sum to promote renewable energies and energy-efficient renovation of public buildings. President of the Swiss Confederation Guy Parmelin and Slovenian President Borut Pahor visited a school in Nova Gorica that was renovated with Swiss support to make it energy-efficient, including the installation of a new wood pellet heating system. In the nearby village of Šempeter-Vrtojba, they visited a noise barrier equipped with solar panels alongside the motorway, which Switzerland helped to finance.
Sustainable energy use
A total of 41 public buildings – mainly schools and kindergartens – are now heated with wood pellets and heat pumps made in Switzerland thanks to the Swiss contribution. The solar panels on the roofs and the motorway noise barrier generate electricity. Energy-efficient renovations also reduce the energy requirements of the school buildings. These investments in combating climate change are important for Slovenia but are also in Switzerland's own interest.
But the projects are not only about financing the infrastructure: they are also about changing the way people think about energy. An e-learning platform, teaching materials, model houses and an eco-classroom in the countryside are all designed to raise pupils' awareness of sustainable energy use. In spring 2015, a well-known business magazine described the project as the most successful and sustainable educational programme in the whole of Slovenia.
Swiss contribution going forward
The enlargement contribution projects in Slovenia were completed in 2015. As a reliable partner of the EU and its member states, Switzerland intends to continue to help reduce economic and social disparities.