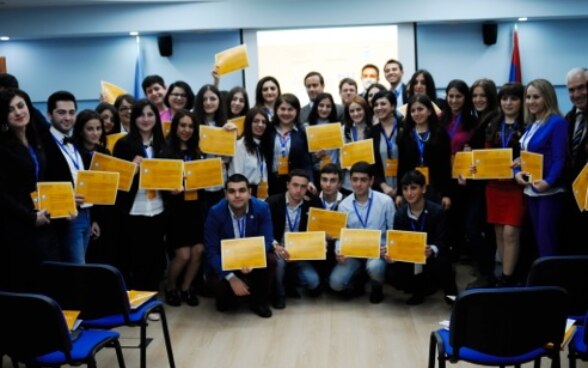 Several months have passed since Vanatur (21, from Dilijan city, Armenia) attended the youth leadership camp. At the final event in Yerevan, he starts his presentation by citing a wise man: "The art of small steps". Small steps lead to important solutions, as Vanatur experienced. Young people in Dilijan voluntarily started to write about the activities of the local municipality and posted the information on the walls of the little town's bus stops, which led to higher participation of the inhabitants in the local events.
Two youth camps had been organized by UNDP under the slogan "I am the Community", with financial support from Switzerland. In total, 73 young women and men from all over the country had gathered in Jermuk and Dilijan to learn more about local governance, and how to make a change in their communities. Thirty-five of the participants subsequently initiated and implemented 26 community projects starting from coloring grey city walls and ending with nominating their own mothers to become a member of the city council. "The young people received training on leadership, but no funds for their community projects", explains Natalya Harutyunyan, the project leader.
A grey city becomes colourful
Amalia Tumasyan (24, Shirak city, Armenia), another participant of the youth camp on community leadership mobilized small funds herself and organized painting of the greyest buildings of Gyumri city. The motto  "Love is" helped to spread love throughout the city. "Gyumri has a very grey image not only because of the grey buildings but also because people rarely smile on the streets", explains Amalia. She has artist-friends who are not practicing their talent. "Artists are to create, they should show their skills and shake up the people from their dormant state", stresses Amalia enthusiastically. She plans to raise more funds in order to continue her project.
Nominating mothers for the city council
Arsen Aghasyan (24, from Kapan city, Armenia) nominates his mother to become a member of the city council. His mother has been teaching history in one of the secondary schools of Kapan city, in the South of Armenia. "I believe in my mother's ability to make a change in my home town. She knows many people and their problems. She has much more friends on Facebook than I have", underlines Arsen, who has studied and worked abroad. His mother has even motivated two other women to run for next local elections. "The youth camp inspired me to start the change with myself", Arsen proudly says. The local elections are going to take place throughout 2016 and not only Arsen hopes to see more women running for and winning positions in the local administrations.
Gata Festival
Other interesting projects included a "Gata Festival" in Khachik village, in the south-west of Armenia bordering with Azerbaijan. Gata is a traditional Armenian sweet pie baked in different ways, sometimes with yoghourt dough, sometimes with layered dough, sometimes even with dry and fresh fruits inside. Alisa Pogosyan, a young Armenian woman motivated the village municipality to invest in the local "Gata Festival". The municipality's contribution  helped to triple the festival's revenue, which now can be used for the solution of local problems. "We are very far away from Yerevan. There is only one way leading to the capital city, other roads bring us to the closed border with our neighboring country", regrets Alisa.
The First Deputy Minister of the Ministry of Territorial Administration and Development, Vache Terteryan showed himself impressed with the presented projects and wished that all local mayors were as efficient as these young people. "Local administrations in Armenia indeed lack funds to solve local problems, but not only", stressed  Lukas Lüscher, Co-Head of the Swiss Cooperation Office in Armenia. "Even the richest communities in other countries solve their problems not only with money, but because many citizens invest their time and creativity for free".
Armenia is a small, landlocked country with about 3 million population. The youth in Armenia is highly educated, but limited job opportunities in the country drive many to emigrate. This project is one small step towards involvement of young people in making life in their communities or cities more attractive.
For more information please visit the website.