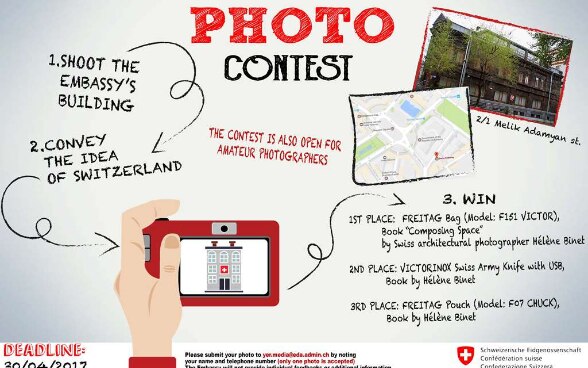 All professional and amateur photographers are invited to participate in this contest with their individual approaches and solutions for the photo of the Embassy's building. The picture must convey the idea of Switzerland. It will be used as an official photo on the Embassy's website and for other purposes.
Conditions:
The photo can be taken from any of the surrounding areas of the building but you must ensure that the Swiss flag/cross is visible.
Only 1 photo may be submitted per person.
Copyright:
By taking part to the contest, you give the right to the Embassy to become the only legal owner of the photos.
Prizes:
Start submitting your creative photos to our Photo contest, where the top three photos will be chosen by a panel of judges to win professional prizes:
1st place:  FREITAG Bag (Model: F151 VICTOR), Book "Composing Space" by Swiss architectural photographer Hélène Binet
2nd place: VICTORINOX Swiss Army Knife with USB, Book by Hélène Binet
3rd place: FREITAG Pouch (Model: F07 CHUCK), Book by Hélène Binet
You are not a professional? To take a great shot, it is not necessary to drag around heavy photography equipment. With their advanced resolutions, our smartphones prove to be as capable to assure high quality photos.
So do not hesitate to submit your photo to yer.media@eda.admin.ch by noting your name and telephone number in the email.
Deadline:
Contest ends on 30/04/2017
Please note that the Embassy will not provide individual feedbacks or additional information by telephone/email.