Swiss-Armenian Business Day 2017
Press release, 30.11.2017
On 29 November 2017, the first Swiss-Armenian Business Day was held at the Armenia Marriot Hotel in Yerevan. The Embassy of Switzerland in Armenia had the great pleasure of organizing the conference!
The Swiss-Armenian Business Day 2017 gathered speakers from the private and governmental sectors of Switzerland and Armenia. The participants shared their experience and expertise on a range of topics including the state of economic relations between Armenia and Switzerland, governmental reforms, the Swiss generalized system of preferences GSP available for Armenian companies who export their products to Switzerland, as well as opportunities and challenges met by companies on the Armenian market and more.
As an exclusive part of the conference, our testimonial session offered the chance of fostering an open debate and lively interaction around the successful initiatives and business cases concerning Switzerland and Armenia. The private economy was represented in sectors such as Pharmaceutical, Research & Development, IT, Tourism, Finance, Winemaking, Cosmetics, and others.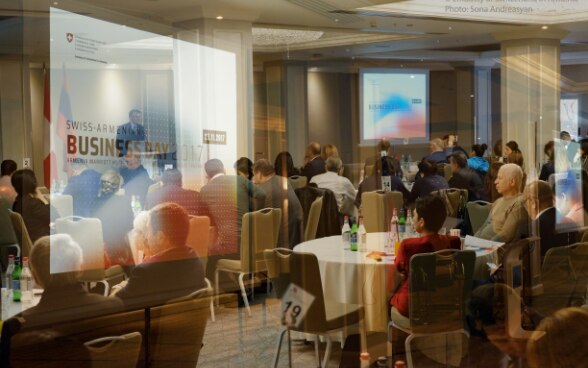 20 years ago, Switzerland and Armenia exchanged goods for hardly CHF 2-3 mln. This year alone (Jan.-Oct.), our trade exchange already approaches CHF 170 mln. Switzerland is among Armenia's top ten partners in trade and direct foreign investment. 10% of the jobs created by Swiss companies in Armenia are located in Research & Development. Given this dynamic development of the economic relations between the two countries, the Embassy of Switzerland in Armenia took the initiative of bringing together the potential contributors of the growth to better get to know each other, take stock of the achievements and discuss perspectives for the future.