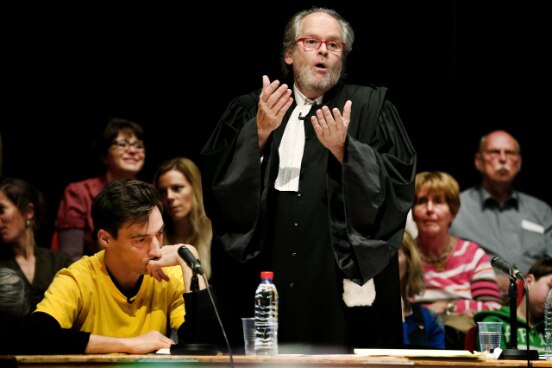 Recent history and Elizabethan drama overlap in a unique fusion of theatre and legal trial. Real-life barristers, a judge, other legal professionals and a "jury" formed by the audience will take part in a "trial" of Hamlet for the murder of Polonius. The unscripted and interactive play by Roger Bernat and Yan Duyvendak awakens the audience's sense of ethics, drawing them to realise how difficult it is to judge someone and giving them insight into how justice is administered.
Time | (26-27.07.2019) 7pm (English); (02-03.08.2019) 7pm (Cantonese)
Location | JC Cube
Price | $300 (Adults); $210 (Full-time students, senior citizens aged 60 or above, and people with disabilities and the minders; limited quotas)
Production Team
Creation: Yan Duyvendak & Roger Bernat
Scenography in collaboration with: Sylvie Kleiber
Graphic design: Marie-Klara Gonzalez; Nicolas Robel B.ü.l.b Grafix
Management: Marine Magnin
International development: Judith Martin – Ligne Directe
Communication and production: Charlotte Terrapon
Technical: Eric Mutel
Cast:
Chan Tai Yin (Hamlet)
Onnie Chan (Ophelia)
Jo Ngai (Gertrude)
With local legal practitioners
Credits
Production : Dreams Come True, Genève
Coproduction: le Phénix scène nationale Valenciennes; Huis a/d Werf, Utrecht; Théâtre du GRÜ, Genève; Le Nouveau théâtre de Montreuil – centre dramatique national
Résidencies: Montévidéo, Marseille; Le Carré/Les Colonnes, Scène conventionnée, Saint-Médard-en-Jalles/Blanquefort
With the financial support of: City of Geneva; République et canton de Genève; Pro Helvetia Fondation suisse pour la culture; Migros pour-cent culturel; La Loterie Romande; Ministerio de Cultura-INAEM, Mécènes du sud, Marseille; Le Nouveau théâtre de Montreuil – centre dramatique national; CORODIS
Remarks:
No latecomers will be admitted
With English and Cantonese Versions
With no surtitles
Recommended for ages 12 and above
Performance duration: Approx. 3.5 hours
Please refer to the event's website for more details.