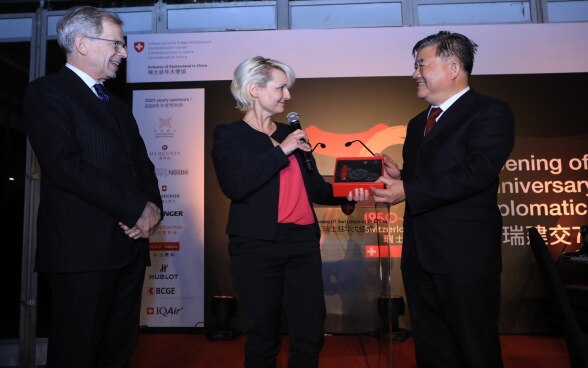 On January 17, 1950, the then President of Swiss Confederation Max Petitpierre sent a telegram to President Mao Zedong, officially recognising the People's Republic of China. The two countries formally established diplomatic relations on September 14 in the same year.
In the seven decades of diplomatic ties, bilateral relations have reached many milestones— Swiss elevator maker Schindler formed the first ever Sino-foreign industrial joint venture in 1980, shortly after China's reform and opening up; Switzerland became the first European country to open a tourism office in Beijing in 1998; Switzerland and China signed a comprehensive bilateral Free Trade Agreement (FTA) in 2013, the first FTA China had with a continental European country; and the two countries established an Innovative Strategic Partnership in 2016, the first of its kind between China and a foreign country.
"Today, Switzerland and China pursue common goals in fields like technological innovation, science, education, environmental protection and sustainable development," said Bernardino Regazzoni, in his opening speech.
The President of Swiss Parliament, Isabelle Moret, who was on an official visit to China, attended the ceremony. In her speech, she reminded the guests that Switzerland was the first continental European country to recognise China's market economy status back in 2007.
"After my first visit to China, I leave with the feeling of thriving bilateral relations, which started at the time of horses and telegrams. Now we are in an era of the Internet and innovation. Our two countries' relations remain as open and as cordial as ever. I look forward to continuing to reap the fruit of our friendship in future," said Moret, who concluded her five-day official visit on Friday.
The bilateral relations have been flourishing in recent years, marked by frequent reciprocal visits of top officials and close exchanges on all levels. Swiss President Ueli Maurer came to China for a state visit in April 2019 and the two countries signed a Memorandum of Understanding focusing on financial and economic matters related to the Belt and Road Initiative. The visit followed Chinese President Xi Jinping's visit to Switzerland back in 2017, during which Xi gave an important speech at the World Economic Forum in Davos.
China has been Switzerland's main economic partner in Asia and its third largest trading partner globally since 2010. And Switzerland has grown to be a popular destination for Chinese tourists and an attractive country to invest in for Chinese companies.
Swiss companies took the lead in China's reform and opening up and today Swiss companies actively participate in China's new round of opening up – Swiss bank UBS became the first foreign bank to take majority stake in its securities joint venture after Chinese authorities allowed foreign companies to take up 51 percent stake in securities firms in 2018.
Switzerland has increased cooperation with China in environmental protection too. The Embassy has worked on projects aiming at tackling air pollution and lowering carbon emission in China from 2010 to 2015, the results of which were taken into accounts by China's air pollution legislation. A new round of clean air projects will be launched this year.
The celebration started with an exclusive classic music concert featuring Swiss and Chinese musicians who played Western classic Schubert's "Die Forelle" and the famous "Yellow River Concerto". The five musicians also performed "Fantaisie Sino-Suisse", which was specifically created by the Swiss composer Richard Dubugnon to commemorate 70 years of Sino-Swiss relations.
Guests enjoyed a grand reception after the concert. As Friday was the traditional Xiaonian Festival, a prelude to the upcoming Spring Festival, Chinese dumplings - jiaozi were served at the reception to celebrate the occasion.
Friday's event is the first in a series of celebratory activities throughout the year by the Swiss Embassy to mark the 70th anniversary of Sino-Swiss diplomatic relations. The Embassy will continue to work to deepen mutual understanding and strengthen bilateral exchanges.