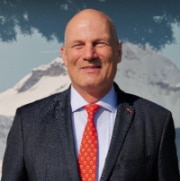 Dear visitor,
Welcome to the website of the Embassy of Switzerland in China!
Switzerland and China share long-standing diplomatic relations that date back to 1950, when Switzerland recognized the People's Republic of China as one of the first Western countries. Today, China is one of Switzerland's biggest trading partners in the world, and the most important one in Asia. Therefore, the Swiss government adopted in 2020 a strategy dedicated specifically to the future of Sino-Swiss relations, which pays high consideration to the significance of this carefully developed and mutually beneficial relationship.
The bilateral relations were elevated to a new height with the implementation of the Sino-Swiss Free Trade Agreement in 2014 and the establishment of the Sino-Swiss Innovative Strategic Partnership in 2016. The two countries maintain dialogue in more than 20 areas, including politics, finance, human rights, education, science, and sustainable development, with regular high-level visits.
The strengthening of the existing bonds is the Embassy's core mission. With the termination of the pandemic, it is the Embassy's first priority to fully recover the previous scale and thematic range of dialogue and cooperation. The Embassy in Beijing is in charge of diplomatic relations between Switzerland and China, Mongolia and the Democratic People's Republic of Korea. Our official network includes the Swiss Consulates General in Shanghai, Guangzhou, Chengdu and Hong Kong, swissnex China office in Shanghai, our trade and investment promotion agency Swiss Business Hub, the Swiss Cooperation Office in Pyongyang and the Cooperation Office of the Embassy of Switzerland – Consular Section in Ulaanbaatar.
We cover all matters of international and bilateral relations between Switzerland and these three countries. We also provide services for all the Swiss living in the region. The Embassy supports Swiss business, science, education, culture as well as other interest groups. Last but not least, we are issuing visas to all travelers to Switzerland.
If you have any queries, please do not hesitate to contact us at
beijing@eda.admin.ch.
With my best wishes,
Jürg Burri
Ambassador of Switzerland to the People's Republic of China, Mongolia and the Democratic People's Republic of Korea