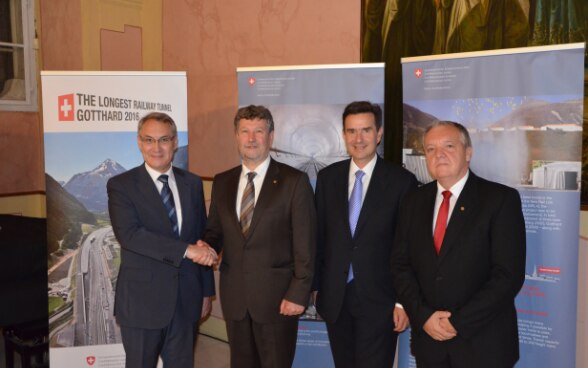 The Gotthard Base Tunnel is 57 kilometers long. This makes it the longest rail tunnel in the world. The new tunnel, which will officially start operating in December 2016, will also set a new benchmark in global rail transportation. This construction project will make North-South traffic through the Swiss Alps significantly easier – and the Base Tunnel is of equal importance economically.

On the 1st of June, the longest tunnel in Switzerland has officially been opened. This ceremonial opening marked also an important event for our Grand Tour. The westernmost Hungarian city of Szentgotthárd offered a great venue for these festivities. The tunnel, as well as the city owe their name to Saint Godehard, bishop of Hildesheim, whose worship spread rapidly throughout Europe in the 12th century. But it is not only the common name that connects the Hungarian town with Switzerland. A project of the Swiss Contribution Office supported the partnership between Szentgotthárd and Lucerne as well as their common efforts in the fields of environmental protection.

On the occasion of the opening ceremony an exhibition had been set up about the Gotthard Base Tunnel which was dedicated to the motto "good neighbourly relationships". The Ambassador of Switzerland in Hungary, Jean-François Paroz, opened the exhibition in presence of the mayor of Szentgotthárd, Gábor Huszár, the Ambassador of Switzerland in Slovenia, Pierre-Yves Fux, the consul general of Slovenia in Szentgotthárd, Boris Jesih , as well as the main sponsors of the Gotthard Base Tunnel, namely ABB, Stadler Rail and the construction company Sika. The exhibition presents the story, facts and figures, the technology and the meaning of the centennial project for Switzerland. Further locations of the exhibition will be on the "Sports and Adventure Da" in Tata and in the Ganz Museum in Budapest (from 14 July).