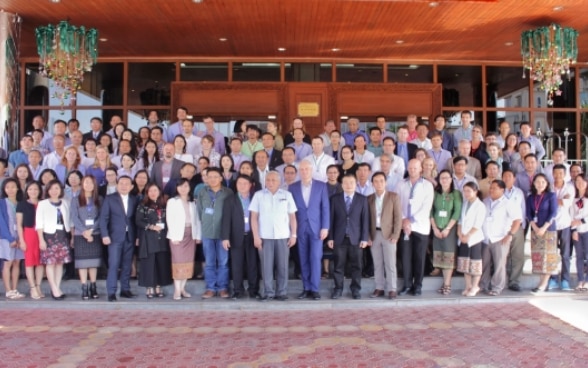 The event, co-chaired by Mr. Tim Enderlin, Swiss Agency for Development and Cooperation Mekong Region Director and counterparts of the Lao Ministry of Planning and Investment, examines how to improve national regulatory frameworks and the agreements between private investors and communities.
Mr. Enderlin said, "Switzerland believes that securing land tenure and rights is a backbone to social harmony and poverty eradication of the poor in the rural areas, where increased domestic and foreign investments in agricultural lands have negatively impacted their land tenure and rights and also their livelihoods."
The workshop brings together about 100 representatives from government, private sector, research institutions, and civil society across the Mekong countries, including China, along with international organizations and partners.
Since the 1990s, a wave of large-scale land acquisitions for agricultural investments has re-emerged world-wide, particularly in the Mekong region.
The convergence of the global food, financial and energy crises in the mid-2000s has intensified interest in large-scale forms of agriculture to unprecedented levels in the Mekong region. However, expected benefits from large-scale agricultural investments, including income generation, modernisation, productivity boosts, and increased government revenues have been disappointing. The social and environmental impacts have become problematic for many communities, the investors themselves, and the governments.
Government, investors, and development organizations have been directing their efforts towards designing and implementing ways to protect smallholder farmers and promote more responsible agro-industrial investments. In the case of Cambodia and Lao PDR, governments holds and changes on large concession agreements.
Conference participants will discuss the positive and negative impacts of investments on rural smallholder farmers, as well as the concessionaires; the effectiveness of current national regulatory frameworks; and the experiences of engagement between the private investors and rural communities and will produce recommendations for alternative approaches to agricultural development and investment to be more inclusive of smallholder farmers.
The event, which takes place in Vientiane from November 15-17, is co-hosted by the Investment Promotion Department of the Ministry of Planning and Investment and the Mekong Region Land Governance Project, with co-conveners, Oxfam and the Institute of Policy and Strategy and Agricultural Research and Development, Viet Nam (IPSARD).
The Mekong Region Land Governance, is a project of the Government of Switzerland, through the Swiss Agency for Development and Cooperation, with co-financing from the German Federal Ministry for Economic Cooperation and Development and the Government of Luxembourg.