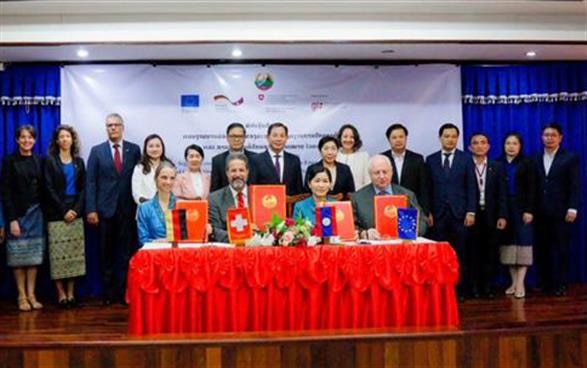 With the start of CEGGA II in November 2022, the Lao government and the three Team Europe partners – European Union (EU), Germany and Switzerland – set out to foster the interaction between citizens and state so that national development is inclusive, and no one is left behind. Vice Minister of Planning and Development Ms. Phonevanh Outhavong and Vice Minister of Home Affairs Mr. Nisith Keopanya, both, expressed their appreciation for the cooperation with the European Union (EU), Germany and Switzerland and thanked for their joint contribution of 9 Mio. EUR to achieve the objectives of the 36-months programme. CEGGA II contributes to Team Europe's Specific Objective of promoting good governance, the rule of law and human rights in Lao PDR, in line with the 9th National Socio-Economic Development Plan.

Mr. Jean-François Cuénod, Regional Director of the Swiss Agency for Development and Cooperation (SDC), highlighted in his remarks, delivered on behalf of the three Team Europe partners, that CEGGA phase II has been jointly designed with Lao partners to build on the results of the previous phase. The programme will shift its focus to implement already established legal and policy framework at the sub-national level. Three Lao state institutions at the central level and in the two partner provinces of Khammouane and Luang Prabang and civil society partners are enhancing dialogue between civil society and state institutions, fostering citizen-oriented processes of the National Assembly and Provincial People's Assemblies, and strengthening citizens' access to justice.
EU Ambassador Ms. Ina Marčulionytė and German Ambassador Ms. Annette Knobloch underlined Team Europe's spirit of working better together with Lao partners by combining European contributions and initiating joint flagship programmes such as CEGGA.
CEGGA II was agreed between the Ministry of Planning and Investment of Lao PDR and the European Union, Germany and Switzerland. The implementation agreement was concluded between the Ministry of Home Affairs, which hosts the CEGGA Secretariat, and GIZ.