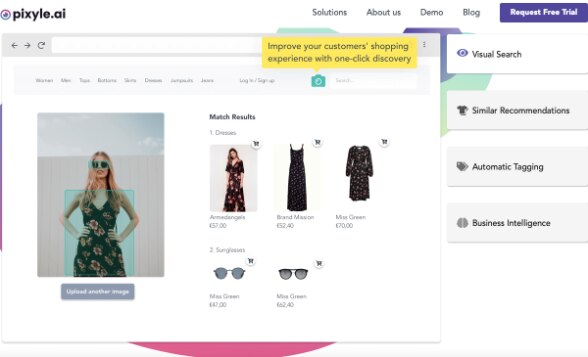 Born and raised in Shtip, a city in North Macedonia, Svetlana Kordumova began to merge her interest in technology and fashion while studying Multimedia and Artificial Intelligence abroad, at the University of Amsterdam. "I have always been eager about science, technology, and fashion, and I love working on innovative products that combine my passions", says Svetlana.
Svetlana's entrepreneurial journey started at a boot camp in the Amsterdam Center of Entrepreneurship incubator. Upon her return to North Macedonia in 2018 she founded Pixyle - a visual intelligence tool that improves the customers' e-commerce experience. Pixyle lets any fashion brand integrate image-based search into their digital channels. In other words, users can upload a photo of a dress that they like, for example, and the online retailer will find similar-looking items. "My goal was to build the most accurate Artificial Intelligence tool for e-commerce fashion, which could help online shoppers find what they were looking for much more easily, while also saving time for companies by minimizing catalog labeling", explains Svetlana. 
While working on Pixyle back in her hometown in North Macedonia, Svetlana started to look for something similar to Amsterdam's vibrant startup community. The first time Svetlana came in contact with the Swiss Entrepreneurship Programme (Swiss EP) was when she attended a workshop on content marketing. Encouraged by the things she learned at the workshop, Svetlana met with a range of Swiss EP experts and gained insights and guidance on how to successfully develop her product and how to better position it on the market. With their guidance, she applied for financial support of the Fund for Innovation and Technology Development of North Macedonia (FITD) and received a grant of CHF 54.000. 
In November last year, Pixyle was admitted to the Rockstarter Artificial Intelligence program in Amsterdam, which gave the Pixyle team another push in business development. Another international success came from her participation in the Women Entrepreneurs Week in Switzerland, organized by Swiss EP, which exposed Svetlana to Swiss mentors and investors. "This experience helped me a lot further build Pixyle. In 2019 the team has grown to eight persons ", says Svetlana and adds that thanks to the Swiss EP "Pixyle is a well-constituted startup formed by a talented team of professionals, working with different clients from the fashion industry." 
Pixyle is just one of the many successful Macedonian startups supported by the Swiss EP. Almost 1000 jobs were created by these startups in the last four years. Over the next 4 years, the Swiss EP will continue its activities, further helping local startups grow to conquer the world while creating more jobs in North Macedonia.