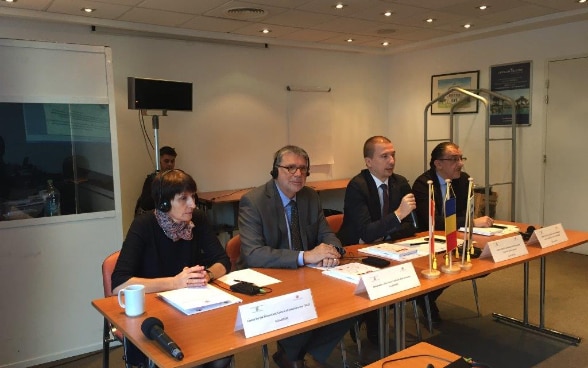 This project phase aimed to improving the assistance and the reception conditions provided to the asylum seekers and the beneficiaries of the international protection on the Romanian territory.  On the occasion of the closing conference were provided the results achieved by the project and its impact.
The overall project goal was to increase the efficiency and quality of the asylum process in Romania, taking into account the new EU Directives, by means of enhancing the operational capacity in performing daily activities, both at central structure level and regional centres across Romanian territory.
The Swiss experts in the field provided, through specialized technical competence, the knowledge for the improvement of the internal process of GII. The main areas of transferring the know-how regarded the capacity building of the GII, the international protection in Eastern Europe, improvement of the reception-accommodation conditions for asylum seekers and refugees and their registration, as well as provision of material for assistance and the promotion of social inclusion.
The total budget for both phase I and phase II of the project amounts to 534'214 Swiss francs out of which the Swiss grant is in total amount of 454'082 Swiss francs, co-financed through the Swiss Contribution to the enlarged European Union.