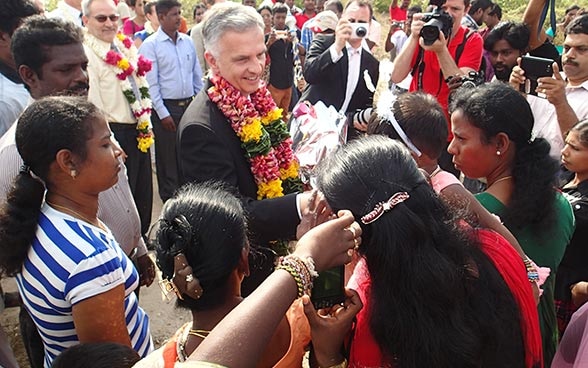 The day after he held political talks with representatives of the Sri Lankan government and with influential Tamil politicians, Federal Councillor and Head of the Federal Department of Foreign Affairs Didier Burkhalter visited Akkarai, a village in Jaffna in northern Sri Lanka. Thirty-five houses in the village, which was destroyed during the civil war, are being rebuilt as part of a humanitarian reconstruction programme of the Swiss Agency for Development and Cooperation (SDC).
Akkarai is located in an area that was only recently cleared by the Sri Lankan armed forces after 26 years. Houses in various stages of construction can now be seen around the village. Mr Burkhalter enquired about the demining activities that have to be carried out to protect the local community before every reconstruction project, and spoke with the residents of the houses that have been rebuilt. "The houses of Akkarai show that a shared commitment can give people renewed hope and prospects. I am delighted that Switzerland can play its part in helping the people of Akkarai build their own future after all they have been through", said Mr Burkhalter while touring the village.
Homes, communities, livelihoods
When people returned to their villages in northern Sri Lanka after a civil war that lasted nearly 30 years, they found that the social, economic and environmentally relevant structures had been almost completely destroyed. The SDC is responding to this challenge with a reconstruction programme based on a three-pronged integrated approach:
- The programme helps families take responsibility for the construction of their own homes, provides advice and makes a financial contribution;
- Reconstruction of community infrastructures with a particular emphasis on education (schools and kindergartens) and access to water;
- Support and development of preconditions for secure livelihoods (e.g. individual income generation opportunities, support for people intending to start their own business, business development).
Families plan the construction of their own homes and do the work themselves. Twenty per cent of households are headed by women for whom it is particularly important after the war to have a safe place of retreating.
As part of the SDC's reconstruction programme, Swiss Humanitarian Aid has supported the construction of about 5,100 houses for 25,000 people as well as eight schools and 35 kindergartens. In addition, it has facilitated access to water and wastewater services and the rehabilitation of rainwater retention basins in 45 communities in arid areas. The SDC has invested a total of approximately CHF 30 million in the programme since it was launched in 2009.
---
Address for enquiries:
Information FDFA
Bundeshaus West
CH-3003 Bern
Tel.: +41 58 462 31 53
Fax: +41 58 464 90 47
E-Mail: info@eda.admin.ch
---
Publisher: