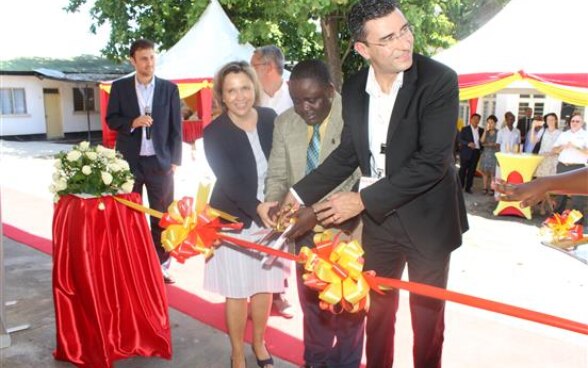 Sika, a Swiss specialty chemicals company, is the first to manufacture concrete admixtures locally. The company is already making plans to add mortar products in its manufacturing line. Sika aims to establish a local supply chain to benefit from planned investments in infrastructure.
The Deputy Permanent Secretary for Industry, Trade and Investment, Mr. Ludovick Nduhiye graced the event as the guest of honour. Other guests in attendance at the opening ceremony included the Swiss Ambassador to Tanzania H.E. Florence Tinguely Mattli, Sika Head for Europe, Middle East and Africa (EMEA) Mr. Ivo Schaedler, Sika Head of Africa Mr. Jean des Martres and Sika Country Manager for Tanzania Mr. Alfonso Paradinas.
In her remarks, Ambassador Tinguely Mattli commended Sika for its readiness to participate in the economic development of Tanzania. "As a long-time friend and partner of Tanzania, Switzerland is pleased to see a new Swiss investor ready to contribute to creating jobs, developing skills, sharing knowledge and building the capacity of its Tanzanian employees," She added, "The decision by Sika to invest in the country is a message of confidence in the willingness of the Government of Tanzania to create the necessary conditions that will allow private business to prosper."
Sika has subsidiaries in more than 97 countries around the world and manufactures in over 190 factories.