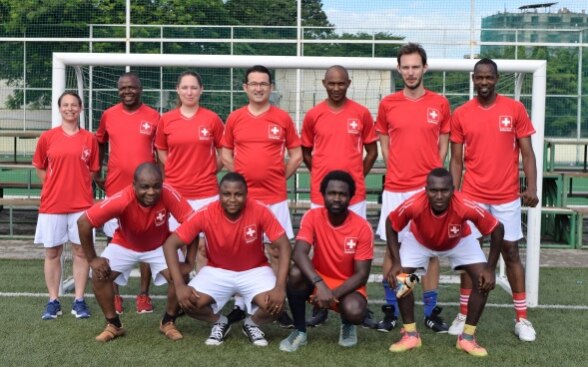 The film, "Chasseurs de Crimes / Crime Hunters" was screened on 20 March at the National Museum. It tells the story of the lawyers of TRIAL (Track Impunity Always), an NGO based in Geneva, pursuing war criminals who have lived or passed through Switzerland. The film was followed by a very lively discussion between a panel and the audience, on those who decide to stand up for human rights. 
The invited panelists came from different fields of expertise: Prof. Chris Maina Peter, from the University of Dar es Salaam, Ms. Anna Henga, new Executive Director of the Legal and Human Rights Centre and Mr. Erick Kabendera, journalist. The discussion was moderated by Mr. Colin Spurway, Country Director of BBC Media Action in Tanzania. Over 150 people attended the evening including students from the Centre for Foreign Relations and the University of Dar es Salaam, and the general public. 
On 25 March, the Swiss Embassy took part in the traditional "Francophonie Week Football Tournament". Seven other teams participated in the tournament including Alliance Française, Belgium, Canada, Democratic Republic of Congo, France, Morocco and Total Tanzania. While Switzerland did not win this year, the team looks forward to bringing home the trophy next year and counts the support of all Swiss football fans in Dar es Salaam!