Coronavirus (COVID-19)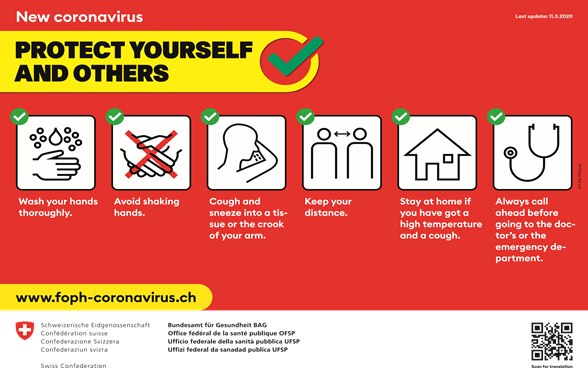 Situation in the United Kingdom
We strongly advise that you check on the UK government website for the latest on the situation before travelling to the UK.
General situation

Please find information on the situation in England, Northern Ireland, Scotland and Wales via the respective links.

Please find up-to-date information as well as information on how to protect yourself on the UK government's dedicated coronavirus website and on the website of the World Health Organization (WHO).
Travel
The UK government currently advises against all but essential travel to many countries, including Switzerland. Further, international travel is not allowed unless you have a legally permitted reason to do so; please find more information on the UK government's website.

Travel inbound:

All international arrivals in England are required to present a negative COVID-19 test result taken within three days prior to departure. The COVID-19 test must comply with certain standards. Please find more information on mandatory COVID-19 testing on the relevant website.

Persons entering the UK from Switzerland are required to self-isolate for ten days upon arrival, unless they qualify for an exemption. Before travelling to England, they have to book a package with two tests that have to be taken on day 2 and day 8 of their quarantine. Travellers self-isolating in England may choose to opt in to the Test to Release Scheme allowing them to end their self-isolation period after five days if tested negative. Please find more information on the Test to Release for international travel webpage.

Travellers are required to fill in the 'passenger locator form' before entering the UK, providing their contact details.

Persons who have been in a country where travel to the UK is banned at any point in the previous ten days have to book and stay in a quarantine hotel, see guidance. Please note that all international arrivals to Scotland have to book and stay in a quarantine hotel.

Travel outbound:

Persons travelling abroad from England need to complete a travel declaration form to confirm that they have a legally permitted reason to do so.
For more information, please visit this UK government website or the websites of the Scottish, Northern Irish or Welsh Devolved Administrations.