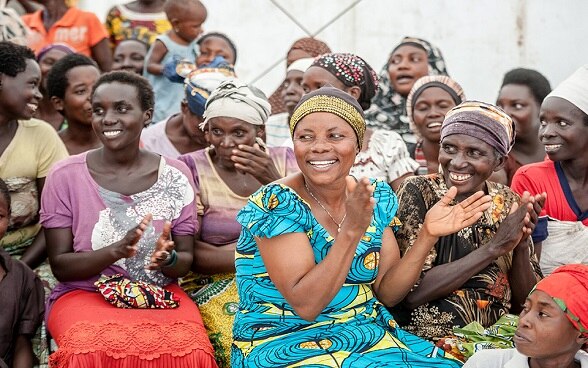 Better gender equality always promotes sustainable development and economic growth and helps reduce poverty especially among the poor and vulnerable. This is why Switzerland through the Swiss Agency for Development and Cooperation (SDC) and its partners are systematically promoting gender equality, women and men's rights and the empowerment of women and girls in Southern Africa.
The causes of GBV are varied-individual and context specific, hence the need to fully understand the root causes in order to effectively address them. Some common drivers include early marriages, poverty, power imbalances in access to and control over resources, conflict and insecurity, alcohol and substance abuse.
With a new Regional Cooperation Strategy for Southern Africa 2018-2022 targeting young people, Switzerland sees an opportunity to not only capitalize on this youth dividend in the Southern African Development Community (SADC) but to make sure that men and boys are consciously targeted as they are also victims of domestic violence, an approach different from the general view that it is almost always women who are left battered and bruised in cases of gender based violence.  
Mounting evidence from the various Swiss Development Cooperation partners' analyses shows that mainstreaming of gender in our programmes – Food Security and HIV/AIDS and Sexual and Reproductive Health and Rights (SRHR) is having a positive impact on ordinary people. For instance, violence against women in a number of partner countries is going down, while their economic and political status has been strengthened.
In Zambia, eSwatini, Malawi, Zimbabwe and Lesotho gender-based violence has declined thanks to amongst others the United Nations Population Fund (UNFPA) supported Safeguard Young People programme which is scaling up the engagement of men and boys for the promotion of SRHR and gender equality. The project which started in 2013 has delivered encouraging results as witnessed by the significant reduction of gender based violence cases reported to the authorities in the targeted areas.
In Botswana, Lesotho, eSwatini, Tanzania, Zimbabwe and Malawi an SDC partner, REPSSI is working on Psychosocial Support (PSS) and educating communities on how to respond and assist both girls and women affected by gender-based violence before referring them to specialised services, and how best to approach the issues in their communities. A number of success have been scored in this area. These examples show Switzerland's commitment in combating gender-based violence, economic empowerment and political participation of women is contributing to better results in Southern Africa.
In addition, information coming through from the various evaluations on the Swiss Regional Programme in Southern Africa, shows that projects whose main objective is to contribute to improving gender equality are proving to be very effective, while projects that have a different main focus and include the gender aspect as a transversal theme – such as projects to raise the incomes of men and women – are having a corresponding success rate.
Indeed the fight for gender equality is a slow and difficult process and additional targeted efforts especially on young people and men specifically remains very important. This is because lasting change that permanently changes social norms and gender roles can only be achieved if men and boys are also involved in projects.
Violence against women and girls however continues to manifest itself in many forms. The 16 Days of Activism against Gender-Based Violence which starts on 25 November until 10 December with the theme "Orange the World: #HearMeToo" marks an opportunity for all of us to draw attention to the issues of domestic violence, sexual abuse, rape, female genital mutilation and forced marriage among others in Southern Africa.
For Switzerland, these issues remain integral to our long-standing efforts to help eradicate any form of violence and strengthen women's rights in general.