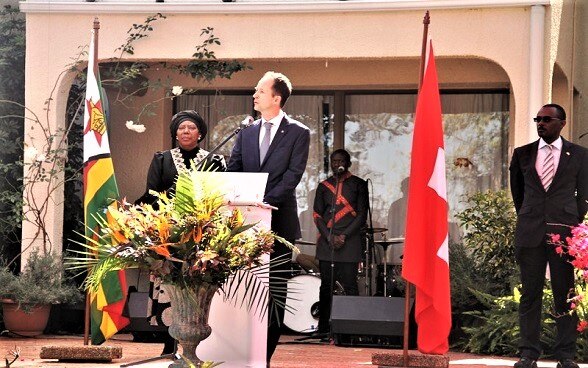 "Switzerland embraces the courage that democracy requires and this is the foundation of our relationship with Zimbabwe and its people – it is chiefly based on mutual respect and trust," said Ambassador Jäger.
Mr. Jäger explained how Swiss-Zimbabwe relations have been recently strengthened following President E. D Mnangagwa's first visit to Europe which he made to Switzerland in 2018 and his meeting with the Swiss President which was followed by this year's visit of the Swiss foreign minister Ignazio Cassis to Harare.
He also noted how when international law is under pressure and foreign interventions threaten the international order, Switzerland continues to be committed to ensuring that bilateral relations between states are based on law and not short term interests.
Ambassador Jäger applauded the Government of Zimbabwe for dealing with issues related to human rights, peace and in dealing with the past.
"In the context of promoting peace and respect for human rights, I would like to welcome the Government of Zimbabwe's commitment to opening up and moving to deal with the legacy of past traumatic conflicts. Giving the people a voice will help to achieve unity and reconciliation.
"The world over, Switzerland continues to act as a bridge-builder for many countries that do not have diplomatic relations with each other in order to help resolve conflicts," said Ambassador Jager.
In 2018, Switzerland assisted Zimbabwe with the Code of Conduct for Elections which saw all parties coming together under the leadership of the National Peace and Reconciliation Commission and publicly pledged to peaceful electoral campaigns. At the request of the political parties, Switzerland is also serving as a neutral intermediary, working closely with the Government of Zimbabwe, political parties, civil society organisations and the church to promote tolerant, peaceful and inclusive dialogue among the people of Zimbabwe.
On the economic front, he described bilateral ties as very promising despite the fact that Swiss companies operating in Zimbabwe still face a number of operating challenges.
The Ambassador also extolled Switzerland's long humanitarian aid tradition to Zimbabwe and the region, which was recently seen through assistance to victims of Cyclone Idai in Zimbabwe, Mozambique and Malawi
The Swiss National Day celebration was attended by Ambassador Alice Mageza, who is the Director of Europe, the Pacific and Asia in the Ministry of Foreign Affairs and International Trade in the Government of Zimbabwe, officials and dignitaries, members of the diplomatic corps and the Swiss community.