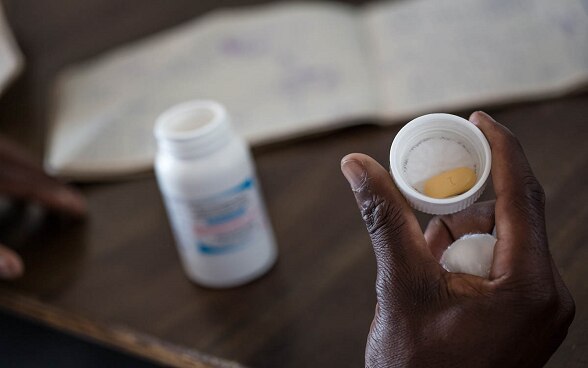 In his prime, he was a successful athlete who won trophies at the local and international scene. Since 2005, he has been living positively and following the death of his wife in a traffic accident in 2011, he suffered a debilitating stroke.
Unable to fend for himself and family, Christopher has been receiving medical treatment from the Swiss HIV/AIDS clinic in Newlands, Harare run by the Ruedi Lüthy Foundation.
The clinic which receives funding from the Swiss Agency for Development and Cooperation (SDC) offers comprehensive care and support to HIV patients through the provision of medicines and has integrated nutrition and food assistance into its HIV care and treatment programmes to avoid malnutrition. The clinic with +7000 patients under its care also has a home visit component that trains patients on farming to allow them to sustainably feed their families and closely monitor their adherence to anti-retrovirals.
"I do not regret the first time that I visited the Newlands Clinic. The Swiss HIV/AIDS clinic has not only supported me with medicines but has also provided me with social, moral and financial support. I cannot imagine a life without the support from Newlands Clinic. I am now more persistent and determined to take care of myself and family through the support I am receiving," says Christopher.