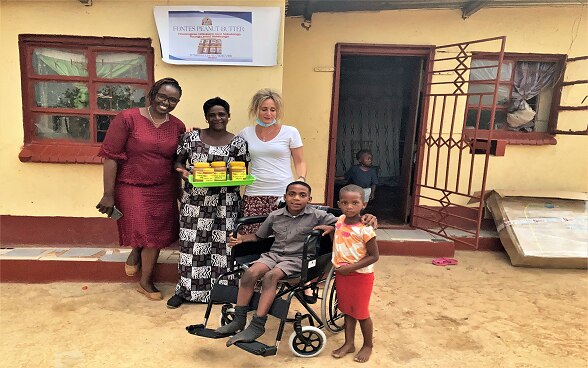 This was the case for 10 year old John (not his real name) from Epworth in Harare who suffers from cerebral palsy. The condition affected his mobility and as such, his hope of running around with fellow children was a wish that seemed elusive for a very long time.
A couple of days ago, Newlands Clinic led by Sabine Lüthy with the support from a donor in Switzerland, made the boy's dream a reality through a wheelchair donation.

"Before the wheelchair my son was confined at home. Now he is able to play with other children and explore the world around him. We are all excited and grateful for the donation," said John's mother Hilda.

Hilda, a widow is part of the Newland Clinic's Women Economic Empowerment Project that support poor and vulnerable women to establish small-scale income-generating projects and assists their families with food through the Emergency Food Basket Programme and the School Fees Support programme. The fees programme is paying fees for John's education.

The Swiss Agency for Development and Cooperation has been working with the Newlands Clinic and the Ministry of Health since 2004 to improve the quality of life of those infected and affected by the HIV/AIDS epidemic in Zimbabwe. The partnership has had very positive results for the families involved.