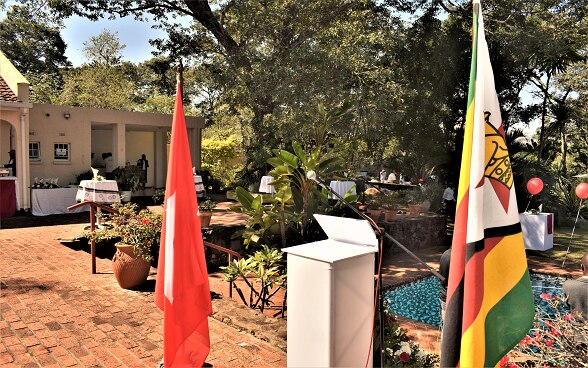 The Sunday Mail reporter Wallace Ruzvidzo (WR) sat down with outgoing Swiss Ambassador to Zimbabwe Niculin Jäger (NJ) to discuss this and other issues.
WR: How would you describe bilateral relations between Zimbabwe and Switzerland?
NJ: Our bilateral relations have a historic component that dates back to independence and Switzerland was one of the first countries to recognise the independence of Zimbabwe. Since then the two countries have remained engaged throughout the years on a friendly basis. With the beginning of the Second Republic, there has been a dynamic growth of high-level exchanges starting with His Excellency President Emmerson Mnangagwa's visit to Davos in 2018, which was his first trip to Europe, followed by regular trips and visits by officials to Switzerland and Zimbabwe. These exchanges are on the one side the result of our daily work and on the other, they feed back into it. The relations and the variety of issues we are collaborating have grown considerably in the last years.

WR: During your farewell, you mentioned a new bilateral programme between Zimbabwe and Switzerland; can you shed more light on the programme?

NJ: In the past, Switzerland had a regional approach in the field of development and cooperation, with the Embassy in Harare acting as the regional hub for development cooperation. This allowed us to duplicate successful programmes in one country to be duplicated in other countries in the Southern African Development Community (SADC) in collaboration with the SADC Secretariat, going from local to national to regional. Starting January 2023, Switzerland will have a direct bilateral programme with Zimbabwe. The advantage of the bilateral programme is that it will bring us closer to the people, partners and authorities, working directly on the spot. It will increase our financial contribution to various programmes in Zimbabwe in the next four years and allow for further concentration of resources.

WR: Through the Swiss Agency for Development and Cooperation, Switzerland this year tripled its budget in supporting Zimbabwe from US$4 million in 2021 to US$12 million in 2022; can you give us some detail on what led to this increase?

NJ: This is because of our change from the regional approach to bilateral approach. When phasing out development programmes we do not do it suddenly but gradually and this leads to overlapping programmes, hence this leads to higher financial commitment already, an indication of our commitment going into the future.

WR: Switzerland is one of the leading European investors in Zimbabwe with investments in various sectors of the economy; would you say this is because of a conducive investment climate?

NJ: There are three different categories of Swiss investment in Zimbabwe. The first category comprises of investments by companies that came to the country decades ago and have become part of the economic environment of Zimbabwe. These have become a part of the Zimbabwean market to an extent that consumers see their products as local. These companies are strong contributors to the economy and employ a considerable number of Zimbabweans. We support them in their quest to grow and better the business environment.

The second category are companies that have come recently and are closely looking at the developments that are taking place since the Second Republic with regards to reforms under the new investment policies being implemented by the Zimbabwe Investment Development Agency (ZIDA) and under President Mnangagwa's mantra that Zimbabwe is open for business. The third category are companies that are small-to-medium companies, the backbone of most economies, which were established at different times but are of Swiss origin. These are less visible sometimes but are very important because they generate income, provide job opportunities and are a part of the wider economy. There are also many companies who are providing services to other Zimbabwean companies from abroad. Switzerland is an important investor and the footprint in some sectors is strategic for the development of the Zimbabwean economy. Economic freedom, social responsibility and the implementation of stable, consistent framework will be key for the years to come.

WR: You mentioned President Mnangagwa's Zimbabwe is Open for Business mantra, how has Switzerland responded to it?
NJ: It has responded by offering the World Economic Forum in Davos and through this platform, it has provided the floor for Zimbabwe to present itself including the business fora that have been organised on the side-lines of the event. The second thing is that Switzerland is looking to share best practices and developments that are happening in the global economy to allow for the better integration of the Zimbabwean economy into the world economy and to strengthen the exchange happening between our economies.

For this, we are looking on one side at new agreements that can provide the legal framework and on the other; we want the existing legal framework attracting and protecting investors to be implemented in a consistent way to support the investment climate. My Embassy together with the Swiss companies have established the Swiss-Zimbabwe Business Chamber just a year ago, which will serve as a local platform for exchange within the business community and welcoming new partners in both directions because Switzerland offers a potential hub for Zimbabwean companies who want to enter the European market.

WR: How is trade between Zimbabwe and Switzerland?

NJ: Direct trade is not very substantial. The Swiss companies present are mostly producing for the local market or for the regional markets but not many processed goods find their way from Zimbabwe to Switzerland and vice versa. There is definitely further potential on this, hence the idea of the Swiss-Zimbabwe Business Chamber to help improve trade between the two countries.

WR: Switzerland appears to have confidence in Zimbabwe unlike its peers, to what do you attribute this?

NJ: In diplomacy, you need a common language and a level of mutual understanding and trust and Switzerland and Zimbabwe have found this and are building on it. We have our own foreign policy, which is based on respect of other countries' sovereignty. The foreign policy is in addition based on neutrality and values of economic wellbeing, peace, democracy and the fight against poverty. This translates in our daily concrete actions. In politics and in diplomacy everything should be about finding solutions to challenges and overcoming differences for getting the best result out of it. This is my conviction and the base of my daily work.

WR: How would you describe political relations between Zimbabwe and Switzerland?

NJ: As I said earlier, I think they are very cordial, very vibrant and broad, hinged on mutual respect that allows us to have regular exchanges at the highest level. Swiss foreign policy has a very strong element of a convenor, facilitator, mediator and trustworthy dialogue partner that you can see in International Geneva. This translates into our work on the ground when we help in processes when people have not found a common language to bring them together and facilitate dialogue between parties that might have different or conflicting opinions about different issues. I think this is a strong element of our work.

WR: For how long have you been in Zimbabwe and how would you characterise your stay?

NJ: I leave Zimbabwe in a few days and I have been in Zimbabwe for four years. I would characterise it as an amazing, incredible learning journey. I had the privilege to meet interlocutors from all levels and parts of society and government, being in direct contact with the people from all corners of the country and I have always felt very welcome.

WR: What have you enjoyed the most about Zimbabwe?

NJ: It is difficult to single out one thing but professionally I would say the variety of interactions that I have had and I could have in this country and privately I was always amazed everywhere I went, be it in the cities, in nature – this country has it all.