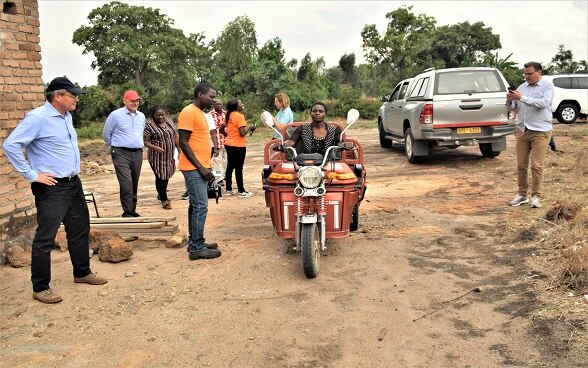 In general, there is limited access to reliable, safe and efficient transport facilities at their disposal. The time spent travelling in most instances adds to the burden of work that they have to endure on a daily basis.
In Mungate village of Domboshava, 30 kilometres from the capital Harare in Zimbabwe, an innovative clean energy electric-powered tricycle is helping to lessen the transport burden for women, increasing their incomes, easing the burden of looking after their families and in some cases affording sometime to themselves.

The electric-powered tricycle, known in the local language as Hamba (meaning "Go"), is being piloted by a social enterprise: Mobility for Africa. The innovative tricycle is powered by a solar-charged lithium ion battery, which Mobility for Africa leases for a small fee to women in the area.

The women can now carry farm produce to a nearby market, offer transportation services to other villagers and use the tricycle for domestic chores including carrying water and firewood.

Anna Mureza, a 43-year-old mother-of-four who is leasing the Hamba from Mobility for Africa, says the tricycle had eased the strain of domestic work and has afforded her adequate time to rest – which is not a norm for a majority of other women in her community.

She can now sell her eggs at a business centre about 10 kilometres away without the challenge of having them getting damaged along the way.

"We used to walk very long distances with heavy loads in the past ... but now it's much easier as this tricycle helps us to carry our chicken feed from the market. I also carry my eggs to the market much faster and safer than in the past," says Anna.

Fadzai Mavhuna, the Mobility for Africa project coordinator, says women pay an equivalent of around US$12 a month to lease the Hamba tricycle, which has a maximum range of 100 kilometres on a full charge.

It costs US$3 to swap the discharged tricycle batteries, which are charged at a solar-powered station at a nearby central location.

Mobility for Africa is now in the second phase of the pilot project before it can go commercial. The Hamba is assembled in Harare with kits made in China and is being sold for around US$2,000.

The tricycle was first introduced in Zimbabwe in 2019 to help women grow their businesses, says company director Shanta Bloemen.

"When we started it was very lonely," Shanta explained to the Swiss Development and Cooperation (SDC) Vice Director, Nicolas Randin and the Ambassador of Switzerland, Stéphane Rey who had visited Mungate village to understand the operations of the social enterprise during a field visit.

"No one was talking about electric mobility in Africa, let alone for rural women," added Shanta.

Three years later, the social enterprise plans to more than triple its current fleet of 88 motorized vehicles by the end of 2022.

The innovative tricycles are also benefitting public service providers such as nurses, police officers and agriculture extension officers who have a transport problem in discharging their duties.

The social enterprise by Mobility for Africa is supported through finance from the Energy and Environment Partnership Trust Fund Africa and donors that include the Governments of Switzerland, Denmark, Finland, lceland, Norway and Sweden. The trust fund helps to provide early stage grants and catalytic financing to innovative clean energy projects, technologies and business models implemented by private actors in Zambia and Zimbabwe.

Switzerland's contribution helps to increase access to clean energy by vulnerable and underserved groups and consolidates its engagement in climate change mitigation.