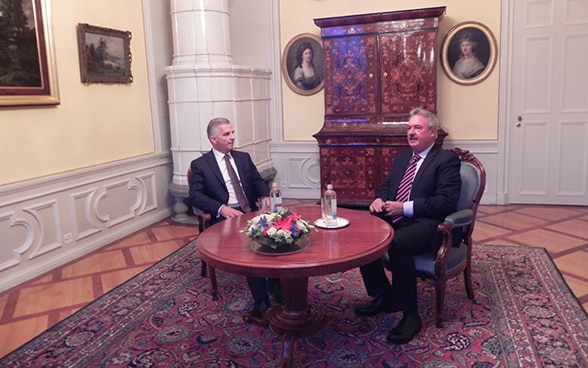 During their working breakfast, Mr Burhalter and Mr Asselborn discussed bilateral topics, including vocational education and training. Luxembourg is a strategic partner country that is particularly interested in the Swiss dual vocational education and training model. The aim of the partnership in this area is to strengthen dual vocational education and training at the international level. The two men also touched on the topic of energy policy and efficiency, an area where the two countries have stepped up cooperation since 2012.
Next, Mr Burkhalter and Mr Asselborn reviewed economic relations between their countries. Both countries have financial centres of international importance where the introduction of the automatic exchange of information enables new forms of bilateral and multilateral cooperation. The two ministers also discussed cooperation in the area of space policy. Since November 2012, Switzerland and Luxembourg have jointly and successfully held the presidency of the European Space Agency.
With respect to European policy, Mr Burkhalter and Mr Asselborn discussed Switzerland's relations with the EU and current developments in the EU, including the migration crisis. They also addressed international topics such as the situation in the Middle East and counterterrorism efforts. The two ministers attended the Conference on Preventing Violent Extremism in Geneva on 8 April 2016.
Switzerland and the Grand Duchy of Luxembourg maintain close and friendly relations. The two countries have many commonalities: their economies are export-oriented, they have two national languages in common and a large proportion of their populations are foreign nationals and cross-border commuters. In recent months Switzerland and Luxembourg have held numerous high-level meetings, in part because Luxembourg held the presidency of the Council of the European Union in the second half of 2015.
Foreign Minister Asselborn is spending several days – with a short interruption – in Switzerland. On 15 April he will meet the head of the Federal Department of Justice and Police, Federal Councillor Simonetta Sommaruga, with whom he will visit a pilot project in Zurich to set up accelerated asylum procedures. On 16 April, he will attend the Visions du Réel film festival in Nyon, where the documentary film 'Foreign Affairs', in which he plays the starring role, will be screened. On 13 April Mr Asselborn delivered a public lecture at the University of Bern at the invitation of the Swiss Foreign Policy Society.
---
Further information:
Bilateral relations between Switzerland and Luxembourg

---
Address for enquiries:
Information FDFA
Bundeshaus West
CH-3003 Bern
Tel.: +41 58 462 31 53
Fax: +41 58 464 90 47
E-Mail: info@eda.admin.ch
---
Publisher: