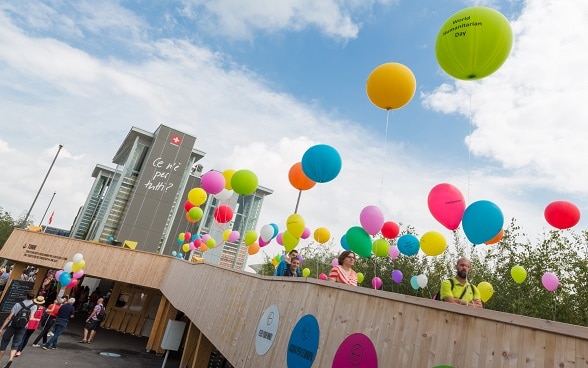 In today's information and communication society, a nuanced and positive image of Switzerland abroad is not an end in itself. It is an important instrument for ensuring that Switzerland can compete internationally on a political and economic level and influences factors such as the country's scope for foreign policy action, investment, economic, scientific and cultural exchange and tourism. Communication abroad analyses the perception of Switzerland in other countries and uses this to develop appropriate measures and instruments for promoting the country's image. It is planned and organised in accordance with the Federal Act and Ordinance on the Promotion of Switzerland's Image Abroad and also the Strategy for Communication Abroad, which the Federal Council approved today for 2016–19.
The Strategy for Communication Abroad 2016–19 focuses on 11 key areas: Switzerland's role in Europe; Switzerland's political system; Swiss solidarity and sense of responsibility; International Geneva; education, research and innovation (ERI); economy and competitiveness; tourism; environment, transport and energy; financial and tax issues; culture; and sport. Ensuring that its achievements in these areas are better promoted abroad will bolster the perception of Switzerland as an innovative and competitive nation with a sense of solidarity and responsibility as well as a high standard of living and an attractive business environment.
Examples of contexts in which communication abroad takes place include Switzerland's participation in large international events (e.g. World Expos and Olympic Games), communication activities by Swiss representations abroad, visits to Switzerland by foreign delegations and major international events held in Switzerland. Another important aspect of the new strategy is strengthening digital communication activities, particularly on social media.
Presence Switzerland, part of the Federal Department of Foreign Affairs' (FDFA) General Secretariat, is responsible for implementing the Strategy for Communication Abroad 2016–19. Close cooperation with partners from politics, business, academia, society and administration will continue to play a central role in this. Communication activities abroad are financed from the FDFA budget, which is subject to annual approval by Parliament. In implementing the strategy, the sponsorship potential derived from the involvement of public and private actors is to be further exploited where possible. Switzerland's participation in World Expos and Olympic Games is financed by federal government contributions which must be applied for separately. The Federal Council has already decided that during the 2016–19 strategy period Switzerland will have a House of Switzerland at the 2016 Summer Olympics in Brazil (Rio de Janeiro) and the 2018 Winter Olympics in South Korea (PyeongChang) and will attend Expo 2017 in Kazakhstan (Astana). 
---
Further information:
Presence Switzerland
Communication abroad
Definition and objectives

---
Address for enquiries:
Ambassador Nicolas Bideau
Head of Presence Switzerland, FDFA
nicolas.bideau@eda.admin.ch
Tel. +41 58 463 45 91
Mobile +41 79 667 69 15
---
Publisher: