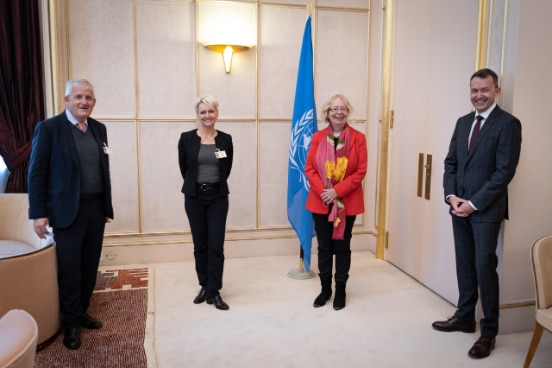 On the first day of their visit, the Presidents of the Chambers had the opportunity to discuss with the President of the ICRC - and the members of the Directorate - the emerging challenges facing the organisation in the conflicts in which it operates, such as the risks associated with the increasing use of digital technology. The visit was also an opportunity to present some of the Organization's key activities, such as restoring family links, working to promote data protection and its involvement for several decades in physical rehabilitation programmes. The meeting day concluded with a visit to the ICRC Logistics Centre in Satigny. The Centre enables the ICRC to support its operations in the field, in particular by sending medical equipment to populations affected by conflict or armed violence.
On the second day, the Presidents of the Federal Chambers met with the Director-General of the United Nations Office at Geneva, Tatiana Valovaya, for an exchange on the challenges of multilateralism and Switzerland's role as host and member state of the United Nations. They also visited the construction site of the Strategic Heritage Plan for the preservation of the Palais des Nations (SHP), a renovation and construction project that will ensure the sustainable use of the Palais as an international conference platform and as a safe, modern and efficient workplace. In the future, different UN entities will come together under one roof.
The Presidents of the Chambers then visited the World Health Organization (WHO). They were able to visit the new WHO headquarters building that is currently being finalised - supported by an interest-free loan from Switzerland - and the operations centre for responding to health emergencies. They met with Director-General Tedros Adhanom Ghebreyesus to discuss the epidemiological situation in Switzerland and around the world. The Director-General stressed that any country could turn the situation around by rigorously applying the health measures known to be effective.
At the invitation of Klaus and Hilde Schwab, the presidents finally visited the headquarters of the World Economic Forum (WEF) in the municipality of Cologny. They discussed the cooperation agreement, signed in January, which aims to make better use of the strategic platform that the Forum represents and to better integrate the Forum into international Geneva. Professor Schwab thanked Switzerland for its support and stressed his interest in seeing it make a greater contribution to the Forum's activities, particularly on the Centres for the Fourth Industrial Revolution.