Embassy of Switzerland in Azerbaijan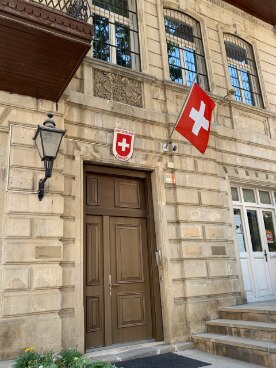 As the official representation of Switzerland, the Embassy covers all matters concerning diplomatic relations between the two countries. It represents Swiss interests in the areas of political, economic, financial and legal affairs, as well as science, education and culture.
Information regarding entry into Switzerland
Entry restrictions are in place for unvaccinated travellers arriving in Switzerland from Azerbaijan. Regarding situations of special necessity in which travel can still be authorized for unvaccinated travellers, please consult the following website. Only if your situation is listed as special necessity, please contact the visa section directly: baku.visa@eda.admin.ch.

For vaccinated travellers:
Vaccination must be documented in the form of a certificate or other proof of vaccination. More information is available here.
For further information, please consult the webpage of the State Secretariat for Migration (SEM) and of the Federal Office of Public Health (FOPH).

Please note: if your trip includes stops in other foreign countries, it is your responsibility to check the travel restrictions in force in those countries.

Switzerland's Online visa system
Visa customers should book a time slot online.They can submit their paper application with documentation and passport through a mandated third person (simple Power of Attorney), if the finger prints were captured less than 59 months ago and can be copied. In case copying is not possible, the customer will be invited to come in person to the visa section so that the finger prints can be captured again.
Important notice for visa customers:
Due to the high demand, there are currently no visa appointments available at this embassy within the next two weeks.

If you need to travel urgently, please contact baku.visa@eda.admin.ch and state the purpose of your visit to Switzerland.