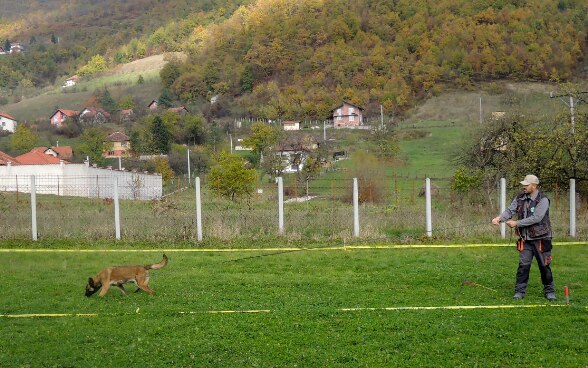 The barking of dogs produces such noise that it's impossible to hear your own voice. We are at the Global Training Centre for Mine Detection Dogs in Blagovac, in rural Bosnia and Herzegovina, about 10 kilometres north of the capital Sarajevo. 
Fourteen people are currently looking after 60 dogs on these vast premises. The dogs have names like Panzer, Amor, Luna, Irony, Jala or Brick. They are all Belgian Shepherds. 
"This breed is healthy, active and not as lazy as, say, a Labrador," says Goran Šehić, the deputy programme manager.
Starting early
As soon as the puppies are about eight weeks old, they are separated from their mothers and begin training. Aptitude tests are given early on and any dogs showing signs of aggression are taken out of the programme. The training initially addresses motivation, fitness, muscle development and exercise. There is even a swimming pool for the dogs to let off steam. 
"This training is compulsory, as the dogs need to be able to concentrate, show willpower and have a lot of stamina when they are in the field. They also have to be socialised and be willing to work with different people," says Gordana Medunjanin, the manager of the training centre.  
Alma Dukic, the centre's vet, emphasises the importance of food: "Adult animals get one meal per day, puppies get three. Every dog has its own special diet, depending on its needs." The food chart on the kitchen wall displays exactly who gets what. Amor gets 600 grams of meat; pregnant Belsa is on a special diet; and Jersey, a puppy, gets 100 grams of meat and 50 grams of dry food.
More efficient than humans, more precise than drones
According to Goran Šehić, dogs are much more efficient than humans when it comes to finding explosive devices. "While a minesweeper with a metal detector can only search an area of 35m2 per day, a dog covers between 400m2 and 600m2."
A trained mine detection dog is worth between €20,000 and €30,000. The four-legged experts also get deployed to other countries. Twelve-year old Helga, for example, has been 'on the job' for 10 years and is currently working in Kosovo. And there's Pet, who used to search for mines in Sudan, but is currently being trained at the global centre before going on a mission to Lebanon.
During their training, the dogs sniff out a tiny object that is hidden under bricks, plastic sheets, tyres or rocks. Once they have found the hidden item, they are rewarded with their favourite toy. The future mine detection dogs later learn how to walk a straight line and then inside a marked field. Explosives, mostly TNT, only come into play at the end of the training.
Dogs have an extraordinary sense of smell and can trace almost anything with their nose. Once a dog has located a mine or another explosive device in the field, it immediately stops moving and sits down, just as it was taught. The spot is then marked for the team to defuse the mine.
After the training, which takes between 18 and 24 months, the dogs receive a certificate from the centre, which has to be validated by the national Bosnia and Herzegovina Mine Action Centre (BHMAC). Now it starts to get serious. "We have never, ever lost a dog while detecting mines," says Gordana Medunjanin. But sadly, they have lost people.
Shovels and machines
In order to clear a mine field, the national mine centre needs to give the green light and determine if, when and how the mines are to be cleared. The centre's inspectors are also on-site to continuously screen the procedures and ensure safety. 
Robert Šafradinexternal link's minesweepers use metal detectors, not dogs, to locate the mines. Once the alarm goes off, the minesweepers unearth the potential explosive device with a small shovel. The mines are usually 10 cm to 50 cm below the surface but sometimes landslides triggered by storms move them farther up. Machines are used in some circumstances to explode these deadly weapons, but it does not always work. In forests or on rocky hills, these machines cannot be used. Once an area has been demined, the national authorities declare it safe, which means the land can be used for growing wheat, vegetables, fruits or berries.
The national mine centre has maps that indicate where the warring parties planted thousands of mines to mark their front lines and trenches. Dangerous areas are cordoned off. Nevertheless, one assumes that some places where mines and cluster bombs are lurking remain hidden to detection. 
WoM coordinator Timka Opardija explains that accidents do happen. "Due to our dire economic situation, people collect firewood, mushrooms or berries in the forest, and they sometimes enter dangerous areas." This is also the reason why risk sensitisation is still high on the agenda in Bosnia and Herzegovina, even 20 years after the end of the war. "The people are not always aware of the dangers, especially children." 
More than 4% of the country is contaminated. Only about half has been demined. Mine expert Robert Šafradin is pessimistic: "It will take ages for Bosnia and Herzegovina to be completely demined. Maybe around 30 years, if at all."
For the German, Italian and French version of the article check following link.