Greetings from the Consul General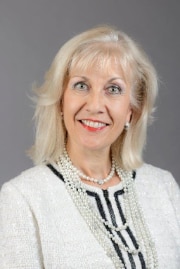 Dear compatriots , Dear friends of Switzerland,
It is my pleasure to welcome you to the website of the Consulate General of Switzerland in Montreal.
I am delighted to have assumed my functions as Consul General on September 4th, 2020, and feel honored to represent my country in this beautiful part of Canada. As head of the Consulate General, which opened in 1875, my mission is to promote and safeguard the interests of Switzerland and of its citizens over a vast territory covering the provinces of Manitoba, Ontario, Quebec, New-Brunswick, Prince Edward Island, Nova-Scotia, Newfoundland and Labrador; the Territory of Nunavut and the Bahamas. The Consulates in Winnipeg, Toronto, Quebec, Halifax and Nassau are headed by Honorary Consuls and complete the network of Swiss representations in my consular district.
My role is also to maintain the existing harmonious relations between Switzerland and this region of Canada. An essential part of this task is related to the development of economic and commercial exchanges between our two countries. For this reason the Swiss Business Hub Canada is an integral part of the Consulate General. My responsibility entails as well the promotion of cultural and academic exchanges, innovation in general and the Swiss education system amongst opinion leaders, the media and the population.
The present website is intended to be a platform to share practical information about Switzerland. It provides details on all our activities and on the Swiss associations and clubs established in Eastern Canada. With regard to our services, you will find downloadable forms to simplify administrative procedures. My team stays ready to assist you to provide additional information - so feel free to contact this Consulate.
On behalf of all the staff of the Consulate General of Switzerland in Montreal, I wish you a pleasant virtual visit on our website and invite you to share with us any suggestions you might have to improve its content or enhance its functionality and user friendliness.
With warm regards,
Line Marie Leon-Pernet Consul General of Switzerland in Montreal