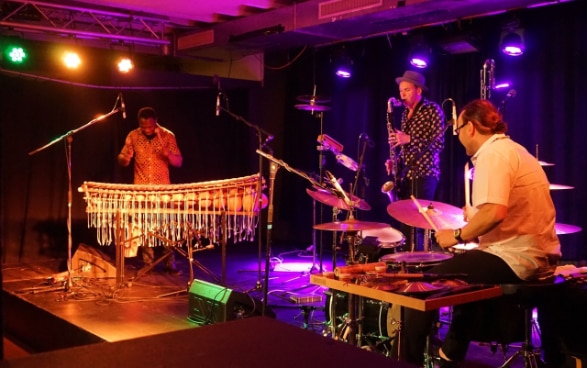 Aly Keïta is one of the grand masters of the balafon, the West African xylophone. The Ivorian musician fits the balafon in interaction with artists such as Joe Zawinul, Omar Sosa and Jan Garbarek. Together with the Swiss clarinetist Jan Galega Brönnimann and Swiss drummer Lucas Niggli, Keïta mixes the traditional African repertoire with Western jazz, improvisation and African rhythms. This 'Brotherhood of vibes and grooves' takes the audience on an adventurous ride.
The first element that underlies the music of this trio, and so Kalo-Yele ('moonlight' in Bambara), their album, released in 2016, is a human and affective dimension, whose origin lies many miles from Switzerland and several decades before the three musicians entered the studio. Niggli and Jan Galega Brönnimann were actually born in Cameroon and they have been friends since they were one year old! So, they spent their youth to the sounds and rhythms of West African music.

Featuring:

Aly Keita - balafon, kalimba
Jan Galega Brönnimann - bass clarinet, contrabass clarinet, soprano saxophone
Lucas Niggli - drums, percussion


Tickets are available for 1800 HUF on the spot, online at bmc.jegy.hu, and at InterTicket Jegypont partners across Hungary.
Please don't forget to reserve a table after purchasing your ticket,
as seating at Opus Jazz Club can only be guaranteed in this case.