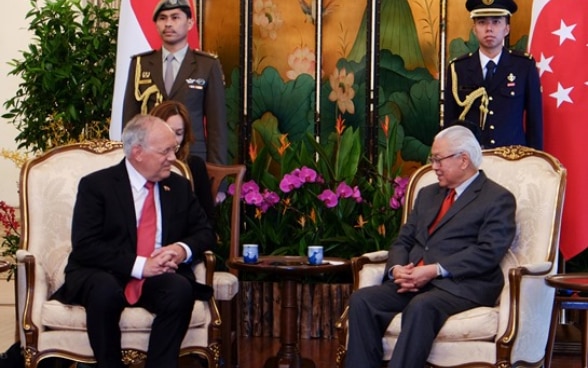 President Johann N. Schneider-Ammann made the first Swiss State Visit to Singapore from 11th to 13th of July 2016.
Accompanied by an important delegation of high ranking Swiss government officials and a business delegation, the objective was to examine enhanced future cooperation between Switzerland and Singapore. President Schneider-Ammann was received by President Tony Tan Keng Yam, followed by successful meetings with Prime Minister Lee Hsien Loong, Deputy Prime Minister Tharman Shanmugaratnam and Minister for Trade and Industry Lim Hng Kiang. The State Visit underlined the friendship between our two countries, the successful collaboration and the possibility to strengthen our partnership in the fields of business, science and education. 
One of the highlights of the State Visit was the Switzerland-Singapore Business Forum on "SkillsFuture – Developing a future ready workforce".
Keynote speakers were President Johann N. Schneider-Ammann and Deputy Prime Minister and Coordinating Minister for Education and Social Policies Tharman Shanmugaratnam.
The aim of the Forum was to shed light on the positive impact of vocational training on the economy and to raise awareness among Singaporean business leaders on their important role to invest in the young generation and in lifelong learning. The event was organised by the Singapore's Ministry of Education and the Swiss Embassy. About 250 guests attended the event at the ShangriLa Hotel.

Selected press articles