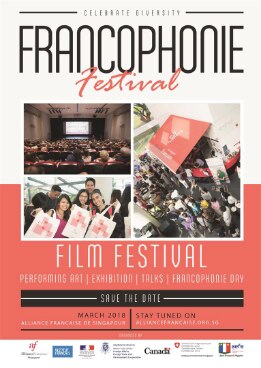 The Embassy of Switzerland together with the Alliance Française is delighted to invite the French language lovers to celebrate the Francophonie Festival from 10th to 27th of March 2018. The Festival starts out with The Francophonie Day 2018.
Join us at the Alliance Française to meet-up with the French-speaking world while enjoying Francophone culture through culinary specialties. On Saturday, 10th March, 3-6 pm, the Swiss Embassy will be serving Swiss Raclette thanks to the generous support of Huber's Butchery.
Save the date for the film screening "Un Juif pour l'exemple" by Swiss director Jacob Berger.
Date: Tuesday 13 March – 8 pm
Venue: Alliance Française, 1 Sarkies Rd, Singapore 258130
Tickets: $15 (non-members), $13 (AF members)
Tickets available through Alliance Française (www.alliancefrancaise.org.sg) and SISTIC (www.sistic.com.sg)
Rating: M18, nudity
The movie is based on the novel of the same name by Swiss writer Jacques Chessex. In a small Swiss village in 1942, a cabal of Nazi sympathizers select a Jewish scapegoat to kill. The then 8-year-old witness of the events grows into a 70-year-old writer (Jacques Chessex), whose life was changed forever by what he saw. This sensitive topic has been chosen in view of Switzerland's current presidency over the International Holocaust Remembrance Alliance, an intergovernmental organization that aims to strengthen Holocaust education, research and remembrance worldwide.
For a complete list of events, please visit
http://www.alliancefrançaise.org.sg/cultural-events/upcoming-events/