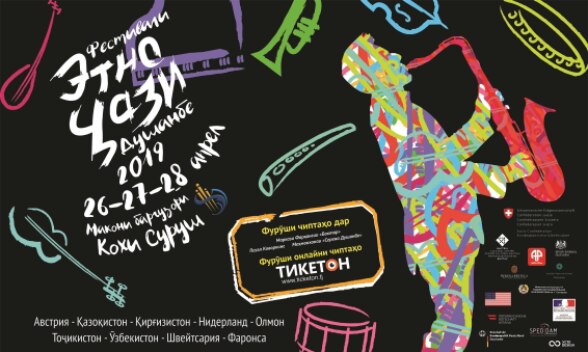 The Festival is supported by the Government of Switzerland, and it is organized by the Cultural Center Bactria in cooperation with the Ministry of Culture of Tajikistan. For the second time, the Swiss music band "Florian Favre Trio" is back in town to perform at the opening of the festival on the 26th.
As a tradition, participants come to the Festival with a "homework", which means they come with a creative interpretation of a Tajik melody chosen by organizers. This year, the Florian Favre Trio from Switzerland and other music groups from France, Germany, Austria, the Netherlands, Kazakhstan, Uzbekistan and Tajikistan will share their own jazz interpretation of the Tajik melody "Gulum oy" on stage. In addition to the concert program, a series of master classes of musicians are held for students in the Tajik National Conservatory named after Sattorov.
Jazz music is not typical for Tajik local culture, however, as Jasur Khalilov, the Festival's Art Director explained: "Folk music is the source of inspiration for jazz musicians and composers. Tajik folk academic music came through centuries, and it has its own rules, content, performance, and is improvisational, which is common with Jazz music. And the genre is still trendy in the world".  Therefore, by initiating the first Ethno-Jazz Festival in 2009 thorough its Art and Culture Programme, Switzerland saw the opportunity to support the dialogue among different cultures through music.
"The festival also coincides with the International day of Jazz, 30th of April. It is celebrated by 115 countries all over the world and I am pleased that Tajikistan is one of them"- noted Ms. Walburga Roos, the Head of the Swiss Cooperation Office in Tajikistan, during the opening of the Festival. "The international day of Jazz highlights the importance of music as "the language of peace, dialogue and friendship"-she added.
The picture gallery of the event will come soon  
For more information, please visit the official website:   www.jazzfestival.tj
Facebook page: www.facebook.com/jazzfestivalTJK